Quick Curtain (British Library Crime Classics) (Paperback)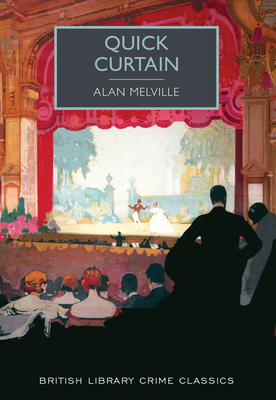 Email staff@bookmarksnc.org for price & availability
Description
---
Mystery crime fiction written in the Golden Age of Murder
"Melville's jaunty, chatty tone gives us an insider's look at everyone connected to the theater world, including critics who recycle their reviews." —Booklist
'Don't talk bunk!' said Mr Douglas. 'You can't carry on with the show with a man dying on stage. Drop the curtain!'
When Douglas B. Douglas—leading light of the London theatre—premieres his new musical extravaganza, Blue Music, he is sure the packed house will be dazzled by the performance. What he couldn't predict is the death of his star, Brandon Baker, on stage in the middle of Act 2. Soon another member of the cast is found dead, and it seems to be a straightforward case of murder followed by suicide.
Inspector Wilson of Scotland Yard—who happens to be among the audience—soon discovers otherwise. Together with Derek, his journalist son, Wilson takes charge of proceedings in his own inimitable way.
This is a witty, satirical novel from the golden age of British crime fiction between the world wars. It is long overdue for rediscovery and this new edition includes an informative introduction by Martin Edwards, author of The Golden Age of Murder.
About the Author
---
ALAN MELVILLE (1910–1983) was a well-known television broadcaster, as well as a playwright, producer, and scriptwriter. Among his works are several crime novels from the 1930s, often set in the popular entertainment world he knew firsthand. Quick Curtain and Death of Anton were reissued as British Library Crime Classics in 2015.