The Telomere Effect: A Revolutionary Approach to Living Younger, Healthier, Longer (Hardcover)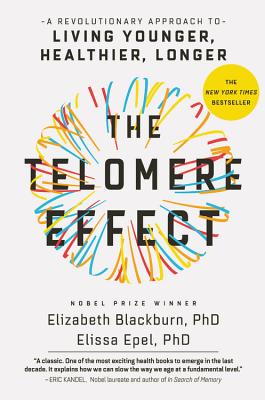 $41.00

Available to order; typically arrives at Bookmarks in 5-10 days
Description
---
The New York Times bestselling book coauthored by the Nobel Prize winner who discovered telomerase and telomeres' role in the aging process and the health psychologist who has done original research into how specific lifestyle and psychological habits can protect telomeres, slowing disease and improving life.

Have you wondered why some sixty-year-olds look and feel like forty-year-olds and why some forty-year-olds look and feel like sixty-year-olds? While many factors contribute to aging and illness, Dr. Elizabeth Blackburn discovered a biological indicator called telomerase, the enzyme that replenishes telomeres, which protect our genetic heritage. Dr. Blackburn and Dr. Elissa Epel's research shows that the length and health of one's telomeres are a biological underpinning of the long-hypothesized mind-body connection. They and other scientists have found that changes we can make to our daily habits can protect our telomeres and increase our health spans (the number of years we remain healthy, active, and disease-free).

The Telemere Effect reveals how Blackburn and Epel's findings, together with research from colleagues around the world, cumulatively show that sleep quality, exercise, aspects of diet, and even certain chemicals profoundly affect our telomeres, and that chronic stress, negative thoughts, strained relationships, and even the wrong neighborhoods can eat away at them.

Drawing from this scientific body of knowledge, they share lists of foods and suggest amounts and types of exercise that are healthy for our telomeres, mind tricks you can use to protect yourself from stress, and information about how to protect your children against developing shorter telomeres, from pregnancy through adolescence. And they describe how we can improve our health spans at the community level, with neighborhoods characterized by trust, green spaces, and safe streets.

The Telemere Effect will make you reassess how you live your life on a day-to-day basis. It is the first book to explain how we age at a cellular level and how we can make simple changes to keep our chromosomes and cells healthy, allowing us to stay disease-free longer and live more vital and meaningful lives.
About the Author
---
Elizabeth Blackburn, PhD, received the Nobel Prize in Physiology or Medicine in 2009 alongside two colleagues for their discovery of telomerase and telomeres' role in the aging process. She is currently president of the Salk Institute. Blackburn was elected president of the American Association for Cancer Research and is a recipient of the Albert Lasker Basic Medical Research Award, among many other awards. In 2007, she was named one of TIME magazine's 100 most influential people.

Elissa Epel, PhD, is a leading health psychologist who studies stress, aging, and obesity. She is the director of UCSF's Aging, Metabolism, and Emotion Center and is associate director of the Center for Health and Community. She is a member of the National Academy of Medicine and serves on scientific advisory committees for the National Institutes of Health, and the Mind and Life Institute. She has received awards from Stanford University, the Society of Behavioral Medicine, and the American Psychological Association.
Praise For…
---
"Blackburn and Epel demonstrate that how we live each day has a profound effect not just on our health and well-being, but how we age, as well. It's a manual for how to live younger and longer."—Arianna Huffington

"A classic. One of the most exciting health books to emerge in the last decade. It explains how we can slow the way we age at a fundamental level."—Eric Kandel, Nobel laureate and author of In Search of Memory

"THE TELOMERE EFFECT explains the often-invisible things that affect all of our lives, helping us make better choices individually and socially for greater health and longevity. It will change the way we think of aging and disease."—David Kessler, MD, JD, former FDA commissioner and New York Times bestselling author of The End of Overeating

"A revolutionary set of findings-with a wealth of science-based suggestions-that can transform the way we live our lives, shaping the very health of our cells by how we use our minds."—Daniel J. Siegel, MD, New York Times bestselling author of Brainstorm

"This book is revolutionary, transforming the way our world thinks about health and living well, disease, and death. It reveals a stunning picture of healthy aging-it's not simply about individuals, it's about how we are connected to each other, today and through future generations. It is hard to overstate this book's importance."—Dean Ornish, MD, founder and president, Preventive Medicine Research Institute, and New York Times bestselling author of The Spectrum

"Grounded in cutting-edge science, this is the best book on how to have long-term health that I have read in a very long time. Written with clarity, verve, and heart, it is chock-full of practical suggestions based on fascinating research on our own DNA. Tremendous."
—Rick Hanson, PhD, author of Buddha's Brain: The Practical Neuroscience of Happiness, Love, and Wisdom

"An extraordinary, illuminating synthesis of biological and psychosocial factors that enhance healthful longevity by their effects on telomeres. These new advances in knowledge enable people to attain longer, healthier lives."—Albert Bandura, professor emeritus, Stanford University, United States National Medal of Science awardee

"THE TELOMERE EFFECT gives us, in high relief and with exactly the practical level of detail we need, the long and the short of a new science revealing that how we live our lives, both inwardly and outwardly, individually and collectively, impinges significantly on our health, our well-being, and even our longevity. Mindfulness is a key ingredient, and importantly, issues of poverty and social justice are shown to clearly come into play as well. This book is an invaluable, rigorously authentic, and at its core, exceedingly compassionate and wise contribution to our understanding of health and well-being."—Jon Kabat-Zinn, author of Full Catastrophe Living

"From basic science to practical life style advice, THE TELOMERE EFFECT is an extraordinary compendium of wisdom from a remarkable collaboration between a molecular biologist and a health psychologist. It is the supreme user-friendly guide to scientific research on telomeres and why knowing about them is important for your everyday life. This book is a must read for anyone who wishes to live with optimal health."—Richard J. Davidson, New York Times bestselling author of The Emotional Life of Your Brain and co-author of Altered Traits