Legacy: Gangsters, Corruption and the London Olympics (Paperback)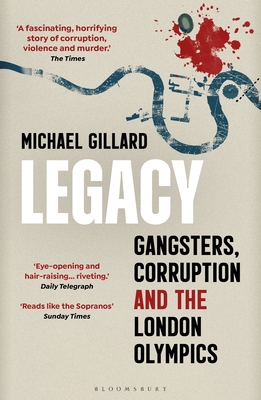 Description
---
A modern gangster cashes in on the London Olympics; business, politics and police corruption undermine the operation to stop him.

When billions poured into the neglected east London borough hosting the 2012 Olympics, a turf war broke out between crime families for control of a now valuable strip of land.

Using violence, guile and corruption, one gangster, the Long Fella, emerged as a true untouchable. A team of local detectives made it their business to take him on until Scotland Yard threw them under the bus and the business of putting on 'the greatest show on earth' won the day.

Award-winning journalist Michael Gillard took up where they left off to expose the tangled web of chief executives, big banks, politicians and dirty money where innocent lives are destroyed and the guilty flourish. Gillard's efforts culminated in a landmark court case, which finally put a spotlight on the Long Fella and his friends and exposed London's real Olympic legacy.
About the Author
---
Michael Gillard is an award-winning journalist formerly of The Sunday Times and the Guardian. He now writes across international publications and turns crime into scripts. A two times winner of Investigation of The Year in the British press awards, in 2013 Gillard was voted Journalist of the Year for his investigation of organised crime and the London 2012 Olympics. He is the author of Untouchables: Dirty Cops,
Bent Justice and Racism in Scotland Yard and For Queen and Currency, Audacious Fraud, Greed and Gambling at Buckingham Palace
Praise For…
---
"After reading this extraordinary book, I realised how much has changed in the criminal underworld of London's East End since I wrote my own book on the Kray twins nearly fifty years ago. Where there are criminals, there is always corruption, but Michael Gillard reveals criminal corruption on a scale that the Kray twins would never have dreamt of when I knew them. Recreational drugs had barely started, the Krays were simple East End gangsters and the police were relatively easy to cope with then. In contrast, the world that Gillard uncovers is a nightmare of corruption, with vast amounts of crooked money and constant threats against him. To write a book like Legacy requires courage as well as literary skill. Michael Gillard has both" —The Profession of Violence, The Rise and Fall of the Kray Twins

"A story of violence and corruption in gangland London that reads like The Sopranos….says a lot about Gillard's immense strength of character and his fearless commitment to evidence-based journalism… it was Gillard's robust journalism that managed to prove what the police failed to do in 30 years." —The Sunday Times