Asterix and the Picts (Paperback)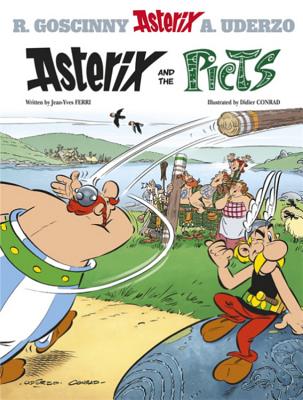 $12.99
Unavailable in store; contact staff@bookmarksnc.org to check price and order availability
Description
---
When Asterix and Obelix rescue a mysterious Pict named MacAroon, they must journey to Caledonia, now Scotland, to return him to his lady love, Camomilla, the adopted daughter of the old king. However, the treacherous chieftain, MacCabeus, plans to marry her and claim the throne - with the help of the Romans!

What with caber-tossing, bagpipes, malted water and an enormous otter in the loch, can the Gauls reunite MacAroon and Camomilla and enjoy some Roman-bashing along the way?
About the Author
---
Rene Goscinny was born in Paris in 1926, and spent most of his childhood in Argentina, before eventually moving to Paris in 1951. He died in 1977. Albert Uderzo was born in 1927 in a small village in Marne, France. He met Rene Goscinny in 1951 and on 29 October 1959 their most famous creation, Asterix, made his first appearance on page 20 of PILOTE. ASTERIX THE GAUL, their first album, was published in 1961 and there have now been 35 Asterix albums. Illustrator Didier Conrad was born in Marseille in 1959. He moved to America after his style got him noticed by Disney and Dreamworks, and in 1996 he designed the characters and storyboard for the 2000 animated film THE ROAD TO EL DORADO. Jean-Yves Ferri lives in the Ariege area of south-western France. Before writing the 35th Asterix album, he worked on the famous series Le Retour a la Terre, as well as the adventures of a police officer named Aime Lacapelle. Visit the English-language Asterix website at www.asterix.com"
Praise For…
---
A delightful Scots version of the most recent Asterix tale. This translation has a twist, however, with Asterix and Obelix speaking Glaswegian, the Picts speak in Doric and the Romans in Dundonian Scots. Great fun.—Scotland Now

Appealing to all age groups, the latest Asterix comic book is a return to form as Albert Uderzo hands over the reins of the million-selling series to a new creative team. This 35th volume sees the French warriors transplanted to the Scottish Highlands, having taken on the task of escorting a lost Pictish warrior, MacAroon, back to his homeland. Pirates, the Loch Ness Monster and caber-tossing all feature along the way in a book to introduce the Gauls and their jokes - and Anthea Bell's superb translations - to yet another generation.—GUARDIAN CHILDREN'S BOOKS

Appealing to all age groups, the latest Asterix book is a return to form—The Guardian

A reminder of just what a timeless, funny, readable and visually rewarding character Asterix is -- whatever your age—Parent Dish

If there's anyone who can simply transcend age altogether it's my first choice, the little Gaulish warrior called Asterix. I've been reading him for three decades, and every new appearance is a pleasure. This latest album comes to us from a new writer-illustrator team (the first time he's been written by anyone other than Goscinny and Uderzo), and despite the burden of expectations they don't disappoint. Asterix and the Picts sends Asterix and Obelix away from their familiar village to travel to Scotland, where they meet Nessie, Obelix tries his hand at tossing a caber, and they fight some Romans, before returning to Gaul for their traditional end-of-adventure banquet with all their - our - old friends. It's a delight. And while the creative team in France has changed, we can be grateful that the English version remains in the incomparably skilled hands of Anthea Bell, who's translated the books with wit and energy since the very beginning.—Daniel Hahn, THE INDEPENDENT

Just about every aspect of Caledonian life is gently lampooned - Nessie, whisky, kilts, caber tossing - in this loving continuation of the series, which cleaves so faithfully to the template that you would hardly know it was the work of others.—FINANCIAL TIMES

It's a delight—THE INDEPENDENT ON SUNDAY

There are simple pleasures here for long-time fans and new recruits. The handover from Uderzo to the new duo shows few obvious joins. We are back with the characters we got to know and cherish. And, as a writer, the good news for me is that the Picts apparently respect their bards more than the Gauls do. It must be so - Asterix himself says it on page 29, by Toutatis!—Ian Rankin, THE GUARDIAN

This book was very very funny!!!—Matthew, aged 8, Anorak

There was always joy in the humour and this Scots-translated story is one of the best. Its full of the usual brilliant rammies and misadventures and Fitt has a lot of fun with the translation, adapting every joke to fit and even employing different local Scots dialects for different characters—The List