The Madonnas of Echo Park: A Novel (Paperback)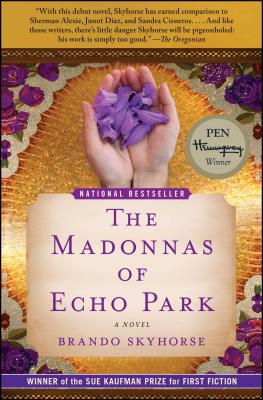 Description
---
Reminiscent of Sherman Alexie and Sandra Cisneros, acclaimed author Brando Skyhorse's "engaging storytelling" (Vanity Fair) brings the Echo Park neighborhood of Los Angeles to life in this poignant and propulsive novel following several generations of Mexican immigrants through their shifting cultural and physical landscapes.

The Madonnas of Echo Park is both a grand mural of a Los Angeles neighborhood and an intimate glimpse into the lives of the men and women who struggle to lose their ethnic identity in the pursuit of the American dream. Each chapter summons a different voice—poetic, fierce, comic. We meet Hector, a day laborer who trolls the streets for work and witnesses a murder that pits his morality against his illegal status; his ex-wife Felicia, who narrowly survives a shooting and lands a cleaning job in a Hollywood Hills house as desolate as its owner; and young Aurora, who journeys through her now gentrified childhood neighborhood to discover her own history and her place in the land that all Mexican-Americans dream of, "the land that belongs to us again."

Reminiscent of Luis Alberto Urrea and Dinaw Mengestu, The Madonnas of Echo Park is a brilliant and genuinely fresh view of American life.
About the Author
---
Brando Skyhorse's debut novel, The Madonnas of Echo Park, won the 2011 PEN/Hemingway Award and the Sue Kaufman Award for First Fiction from the American Academy of Arts and Letters. His memoir, Take This Man, was named one of Kirkus Reviews Best Nonfiction Books of 2014 and one of NBC News's 10 Best Latino Books of 2014. A recipient of a Rockefeller Foundation Bellagio Center fellowship, Skyhorse teaches English and creative writing at Indiana University Bloomington.
Praise For…
---
Winnerof the Pen/Hemingway Award and the Sue Kaufman Prize for First Fiction

"Skyhorse is at his best when exploring the changing world of Echo Park...His careful attention to detail, to a rich past of a place that served as home to Mexican Americans already once displaced from Chavez Ravine, is thoroughly researched and executed-- no easy feat while juggling multiple characters and timeframes...the focus on Mexican American characters is admirable."
— The Los Angeles Times

"To embrace a community, to capture its fabric, to syncopate its rhythms, lives, views and experiences is a difficult feat. But Brando Skyhorse manages to do just that with his breathtaking and, at times, soul-churning novel...Skyhorse [finds] breadth and diversity in Echo Park...Stories zigzag through the book, introducing lives unique and full, bisecting one another at times, standing at solitary edges at others...we are carried away by this intricately crafted tale. Taken together, the tales spin around the axis of a few streets yet splinter off into infinite dimensions."
— Chattanooga Times Free Press

"A revelation…the summer's most original read…extraordinary…The novel is richly detailed, offering varying perspectives that collide into a singular narrative from an evolving neighborhood in the shadow of downtown L.A. (Think Gabriel García Márquez fused with Junot Díaz.)…The immigrant experience may very well be the defining narrative of the United States in the 21st century. When juxtaposed against its literary rival, the self-confession, the results can be breathtaking as exhibited by Skyhorse's startling author's note at the start of the book…powerful."
— Examiner.com

"Rich and textured...As the intricate tale unwinds, we're offered glimpses of...eight residents, whose ordinary, working-class lives intersect under often extraordinary circumstances...Skyhorse propels the reader through the novel at a breakneck pace. And in each section, readers are rewarded with a deeper layer, and a new connection, that enriches the plot...Skyhorse uses elegant prose and vivid storytelling to tackle questions surrounding culture, belonging, and identity that haunt every immigrant community."
— The Christian Science Monitor

"If timeliness and social relevance don't sell you on the book, then read it for its beautifully imperfect characters, the wise certainty of its prose, its satisfying emotional heft…Elegantly written...The book cleverly expresses the tangled nature of multicultural identity and the physical geography of off-the-grid Echo Park."
— The Brooklyn Rail