The Invisible Life of Addie Larue (Large Print / Paperback)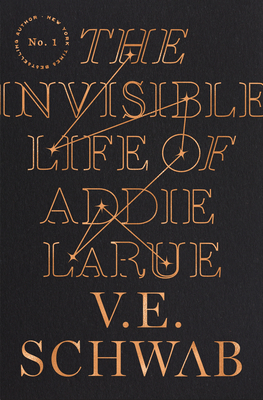 Staff Reviews
---
A slow burn of a novel that is a far cry from Schwab's usual heart-racing, bloody adventures - but with all her characteristic and mesmeric storytelling. Addie LaRue just wants to live a life beyond her tiny village and her age-old fate to marry, bear children, and be buried yards away from where she was born. Little does she realize that her prayers are answered...by the wrong god. One might even call him the devil. And so begins a game of cat-and-mouse across centuries as Addie struggles to live a meaningful life when no one can ever remember one - no one, that is, except one mysterious young man with secrets all his own.
— Cailey
I remember the first time I heard of Addie La Rue's existence, not the exact date, just that I saw her tweet a mood board for it that had John Hamm as the Devil and it was a love story between a girl lost to time and the devil she made a deal with. That of course immediately caught my attention, and I have been nose to the floor for any details since. So to finally have read this glorious book that has kept me waiting I think for over a year at this point, that's a gift all on it's own. The book and the beautiful story she has crafted between the pages is the best thing of all. It's the perfect, most terrifying story about different types of love including the love of one's self, and how that can drive you to do things that only hurt you. The main driving force is the desperation of Addie. Her desperation for more time, for freedom, for love that she thinks she will never have because once she is out of sight, to them she is new, she is unknown. The devil visits her regularly, a desperation of his own developing, to drive her to give up her soul by making things as terrible as possible, but also his fear that she by defying him, is changing him. Then there's the only one that can remember her, the man that made a deal for remembrance in exchange for time. They collide in truly one of the most harrowing loves I've ever read in a book, one you know is doomed despite how strong their feelings are. I read the first hundred pages of this book, took a break and went to work, and then came home and read until five thirty in the morning, and upon reaching the last fifty pages, I promptly started to weep. Furiously, in a grieving almost sort of way. I was nearing the end of Addie's tale and in a way, by reading it, I the reader was remembering her, but she didn't know that. Not until the end. This story overwhelmed me with the breadth of it's emotion, it's purpose, and it changed me. Not every book has that power, and I doubt I'll read another one that can do what Addie La Rue did to me for a long time. Schwab has managed to do something that will strike her name through the halls of history, turning her into one of the masters of literature, and Addie will be in top of the line in this generation of new classics.
— Cat
Wow! THE INVISIBLE LIFE OF ADDIE LARUE is absolutely my favorite type of story--one that grabs the reader from the first chapter, haunts their thoughts when they aren't reading it, and remain a go-to recommendation for years to come.
Victoria Schwab is a true master at seamlessly blending fiction and history. Every detail feels exquisitely placed, bringing Addie's story to life in a bittersweet, tragic, timeless way. The tension is perfectly paced, building slowly throughout the novel. With only sixty pages left to go, I felt like I'd absorbed every emotion from Addie and Henry - my heart was in my throat, and I knew I'd break into tears at any moment. I couldn't stop reading until I reached the end, and when I did, I immediately wanted to start over from the beginning because I didn't want to move on past this dream of a story.
I loved everything about THE INVISIBLE LIFE OF ADDIE LARUE. What a celebration of life and all its pieces, from the big moments to the seemingly small details we take for granted on a daily basis. This is a novel that will cross genres to speak deeply to anyone who appreciates a well-crafted, thoughtful story. Without a doubt, Addie will be on my "Best of 2020" list!
— Beth
October 2020 Indie Next List
---
"Epic, beautifully written, heartwarming, and heartbreaking, The Invisible Life of Addie LaRue is a contemplation on life, death, what it means to make your mark on the world, and why we feel it's important to do so. Addie makes a deal with a demon so she can live her life the way she wants to. But, like most deals, there are strings attached — and these strings make it so she is forgotten by everyone she meets. Dancing about time, the book shows Addie's life over 300 years and takes a closer look at her modern life — after a boy in a bookshop remembers her. Months later, I'm still thinking about this book and how beautiful it is; my words don't even come close to doing it justice. Read this book."
— Lindsey Pattavina, R.J. Julia Booksellers, Madison, CT
Description
---
In the vein of The Time Traveler's Wife and Life After Life, The Invisible Life of Addie LaRue is New York Times bestselling author V. E. Schwab's genre-defying tour de force.
A Life No One Will Remember. A Story You Will Never Forget. France, 1714: in a moment of desperation, a young woman makes a Faustian bargain to live forever--and is cursed to be forgotten by everyone she meets. Thus begins the extraordinary life of Addie LaRue, and a dazzling adventure that will play out across centuries and continents, across history and art, as a young woman learns how far she will go to leave her mark on the world. But everything changes when, after nearly 300 years, Addie stumbles across a young man in a hidden bookstore and he remembers her name.
About the Author
---
VICTORIA "V. E." SCHWAB is the #1 New York Times bestselling author of more than a dozen books, including the acclaimed Shades of Magic series, the Villains series, This Savage Song, and Our Dark Duet. Her work has received critical acclaim, been featured in the New York Times, Entertainment Weekly, Washington Post and more, been translated into more than a dozen languages, and has been optioned for television and film. When she's not haunting Paris streets or trudging up English hillsides, she lives in Edinburgh, Scotland and is usually tucked in the corner of a coffee shop, dreaming up monsters.