March Forward, Girl: From Young Warrior to Little Rock Nine (Paperback)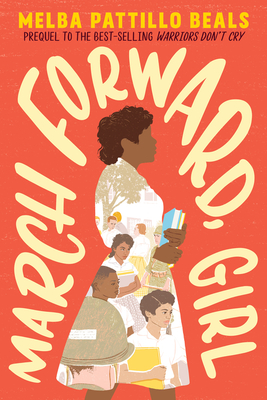 Description
---
From the legendary civil rights activist and author of the million-copy-selling Warriors Don't Cry comes an ardent and profound childhood memoir of growing up while facing adversity in the Jim Crow South.

Long before she was one of the Little Rock Nine, Melba Pattillo Beals was a warrior. Frustrated by the laws that kept African-Americans separate but very much unequal to whites, she had questions. Why couldn't she drink from a "whites only" fountain? Why couldn't she feel safe beyond home—or even within the walls of church? Adults all told her: Hold your tongue. Be patient. Know your place. But Beals had the heart of a fighter—and the knowledge that her true place was a free one.

With emotive photos, this memoir paints a vivid picture of Beals's powerful early journey on the road to becoming a champion for equal rights, an acclaimed journalist, a best-selling author, and the recipient of this country's highest recognition, the Congressional Gold Medal. Includes a Q&A with Melba and bonus audio clip.
About the Author
---
Melba Pattillo Beals is the author of the bestselling WARRIORS DON'T CRY: A SEARING MEMOIR OF THE BATTLE TO INTEGRATE LITTLE ROCK'S CENTRAL HIGH and the recipient of the 1995 American Library Association Nonfiction Book of the Year award and the prestigious Robert F. Kennedy Book Award. Dr. Beals was given a Congressional Gold Medal for her role, as a fifteen-year-old, in the integration of Central High School, Little Rock, Arkansas.
 
Praise For…
---
★ "In a visceral and vital memoir, journalist and activist Beals (Warriors Don't Cry), who integrated Central High School as one of the Little Rock Nine, recounts growing up African-American in 1940s Arkansas 'under the umbrella of the rules and traditions of my oppression.'" —Publishers Weekly, STARRED review

"Beals' recollection of white oppression and her rise above it will haunt readers. A must-read for teens." —School Library Journal