Extreme North: A Cultural History (Paperback)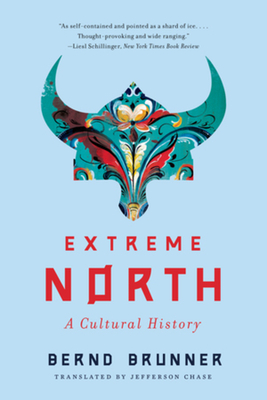 Description
---
An entertaining and informative voyage through cultural fantasies of the North, from sea monsters and a mountain-sized magnet to racist mythmaking.
Scholars and laymen alike have long projected their fantasies onto the great expanse of the global North, whether it be as a frozen no-man's-land, an icy realm of marauding Vikings, or an unspoiled cradle of prehistoric human life. Bernd Brunner reconstructs the encounters of adventurers, colonists, and indigenous communities that led to the creation of a northern "cabinet of wonders" and imbued Scandinavia, Iceland, and the Arctic with a perennial mystique.
Like the mythological sagas that inspired everyone from Wagner to Tolkien, Extreme North explores both the dramatic vistas of the Scandinavian fjords and the murky depths of a Western psyche obsessed with Nordic whiteness. In concise but thoroughly researched chapters, Brunner highlights the cultural and political fictions at play from the first "discoveries" of northern landscapes and stories, to the eugenicist elevation of the "Nordic" phenotype (which in turn influenced America's limits on immigration), to the idealization of Scandinavian social democracy as a post-racial utopia. Brunner traces how crackpot Nazi philosophies that tied the "Aryan race" to the upper latitudes have influenced modern pseudoscientific fantasies of racial and cultural superiority the world over.
The North, Brunner argues, was as much invented as discovered. Full of glittering details embedded in vivid storytelling, Extreme North is a fascinating romp through both actual encounters and popular imaginings, and a disturbing reminder of the power of fantasy to shape the world we live in.
About the Author
---
Jefferson Chase has translated works by Thomas Mann and Wolfgang Schivelbusch, among others. He lives in Berlin.

Bernd Brunner is a historian, lecturer, and author of many acclaimed books. He splits his time between Istanbul and Berlin.
Praise For…
---
Extreme North is an icily bewitching panorama of the dreams and fears, the fascination and the danger of the snowy limits of civilization. In these fantasies and travel accounts, ancient legends, and wild projections, we become spectators of the age-old dance between life and landscape of Nordic climes on the one hand, and human longing on the other.

— Philipp Blom, author of Nature's Mutiny

[This] erudite, engaging book is indispensable for understanding the cultural status of the North today.
— Jóhanna Katrín Friðriksdóttir, author of Valkyrie: The Women of the Viking World

From the Ultima Thule of antiquity to the practices of the North's Indigenous peoples to stoic, Kierkegaardian faith, and on to the racial fantasies about the North's white peoples, Bernd Brunner's imaginative-yet-critical exploration weaves together the many, often contradictory, images and ideas about the top of the globe. It should be read by the curious, student and scholar alike.
— Andrew K. Nestingen, author of Crime and Fantasy in Scandinavia

Beautifully written and deeply evocative, this is history that is in equal parts whimsical and disturbing. Bernd Brunner shows how scientific curiosity and the pursuit of adventure collided with malign theories of racial superiority, attributed to a myth of northern descent.… Extreme North could not be more timely.

— Sunil Amrith, author of Unruly Waters

An intrepid researcher and writer, Bernd Brunner takes readers on a journey through time and space and into the minds of countless many.… The journey is sometimes shocking, always fascinating, and surely worth taking.
— Jack E. Davis, Pulitzer Prize–winning author of The Gulf

In Extreme North, Bernd Brunner gives us a spry, fascinating tour through centuries of lore about the globe's colder latitudes. From Greek myths of Hyperborea to Enlightenment scientists to the Nazi adoration of Norse symbols, he brings alive the power of "the north" to inspire European ideas about everything from race and social organization to geography and history. Bristling with captivating details and characters, Brunner pushes us to wonder what the north is, and why it has so long fascinated people living to the south.

— Bathsheba Demuth, author of Floating Coast

A fascinating and historically disturbing journey through an intriguing land of mystery and legend.
— Kirkus

[A] captivating and wide-ranging account. . . Erudite yet accessible, and packed with intriguing arcana, this cultural history fascinates.
— Publishers Weekly

As content creators continue to find inspiration in the mythical north, readers interested in why these themes have had such longevity will find this book invaluable.
— Margaret Atwater-Singer, Univ. of Evansville Lib., IN - Library Journal

[Extreme North] weaves a darker tapestry, layering legends over the science and history of the north to describe a place that is real, remote, inscrutable and cold… Brunner untangles the origin of these pseudoscientific ideas, from the veneration of the Vikings and Old Norse sagas to the doctrine of 'Nordic' superiority promoted by Nazi ideologues.

— Josie Glausiusz - Nature

A collection of curiosities…There may not be a great deal of sunniness here, or for that matter warmth, but the book makes up for that with fascinating anecdotes, useful digressions and little nuggets of interest.
— James Lovegrove - Financial Times

Engaging… Those who seek out cultural histories to see the world through a strange new lens may particularly enjoy the section exploring how the North was misperceived in antiquity.
— Cal Flyn - Times Literary Supplement

Brunner's work is a dizzying tour of the ways in which successive ages have engaged with the idea of the north… More than anything, though, the book is a reminder that the north is both a place and a perspective.
— Philip Parker - Literary Review

Brunner reaches deep into the journals, letters, and works of travelers, explorers, poets, and politicians, and these, in his hands, give good voice to events and trends that might otherwise offer a dry march through obscure history.
— Neil Shea - American Scholar

Brunner's fascinating series of historical reflections and personal observations, as translated into English by Jefferson Chase, shines a bright light on the North's politics, culture, and people. The fine line between fantasy and reality, which has been regularly and inescapably blurred beyond belief, has more clarity than ever before.
— Michael Taube - Washington Examiner