Forestfall (World at the Lake's Edge Duology #2) (Paperback)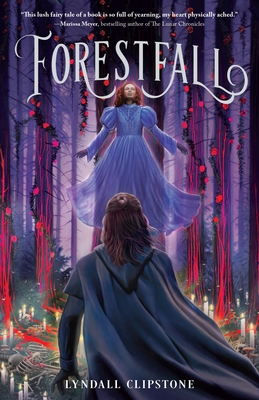 Description
---
At the lake's edge, I made my promise. In the forest, I will fall.

The curse that haunted Lakesedge Estate has been broken, but at great cost. Violeta Graceling has sacrificed herself to end the Corruption.

To escape death, Leta makes a desperate bargain with the Lord Under, one that sees her living at his side in the land of the dead. And though he claims to have given her all he promised, Leta knows this world of souls and mists hides many secrets.

When she discovers she is still bound to Rowan, Leta goes to drastic lengths to reforge their connection. But her search for answers, and a path back home, will see her drawn into even more dangerous bargains, and struggling to resist the allure of a new, dark, power in Forestfall by Lyndall Clipstone.
About the Author
---
Lyndall Clipstone writes about monsters and the girls who like to kiss them. A former youth librarian who grew up running wild in the Barossa Ranges of South Australia, she currently lives in Adelaide, Australia, where she tends her own indoor secret garden. She is the author of Lakesedge and Forestfall.
Praise For…
---
"Clipstone's gothic slow-burn has all the right romantic dark fantasy elements—shadowy magic and a tortuous love triangle...making for prose that reads like a hypnotic incantation and love scenes that are positively incendiary. An inventive and unconventional duology closer certain to spark discussion."
—Kirkus

"In an eerily vivid world of dark magic and darker monsters, this lush fairy tale of a book if so full of yearning, my heart physically ached - for Violeta, for Rowan, for the Lord Under himself. What a haunting depiction of death, power, and the lengths we will go to for true love." —Marissa Meyer, #1 New York Times-bestselling author of The Lunar Chronicles

"With shades of Orpheus and Eurydice and a fresh twist on the classic love triangle, Forestfall is a worthy conclusion to the duology." — Kay Frost, Brookline Booksmith

"An exquisitely crafted tale of love in all its brutality and how far we are willing to fight for it in defiance of death.. Lyndall Clipstone is a brilliant new voice in YA and certainly one to keep watching for. I was haunted by every word." -Kylie Ann Freeman, bookseller at Indigo Books

"Lyndall Clipstone casts another spell with this lush, atmospheric sequel. I was swept away with Violetta and Rowan into this dangerous yet magical world, and I never wanted to leave it. Prepare your hearts for the journey Below." —Rebecca Ross, internationally bestselling author of A River Enchanted

"A beautifully rendered, twistingly gothic tale of love, loss, longing and sacrifice. Utterly gripping, from the first page to the last. — Vanessa Len, author of Only a Monster

Praise for Lakesedge

"Bloody, sumptuous, and as timeless as a fairy tale." —April Genevieve Tucholke, author of The Boneless Mercies

"A shadow-drenched fairytale that readers will happily devour. Lyndall Clipstone's lush prose lends itself to a world both dark and elegant, brimming with monsters and a young woman brave enough to face them." —Emily Lloyd-Jones, author of The Bone Houses

"Lakesedge is an intense tale of mystery and magic that will have lovers of gothic romance eager for the next installment." —Juliet Marillier, author of the Blackthorn & Grim and Warrior Bards series

"This tasty morsel of a book is full of dark waters, family curses, summer bonfires, lakeside summoning rituals, weary boys with monsters inside them, and gods of death who don't play fair. A strong, lyrical debut from a rising star to watch." —S.T. Gibson, author of A Dowry of Blood

"Reminiscent of the romantically gothic atmosphere of the Phantom of the Opera." —Dawn Kurtagich, author of And the Trees Crept In and The Dead House

"Lakesedge crawls into your soul, like frost growing on a window or a shadow emerging from a dark corner, and entrances you . . . a stunning debut that's sure to delight fans of Wintersong, Crimson Peak, or The Phantom of the Opera." —Rachel Strolle, Teen Librarian, Glenside Public Library