Blood Debts (Hardcover)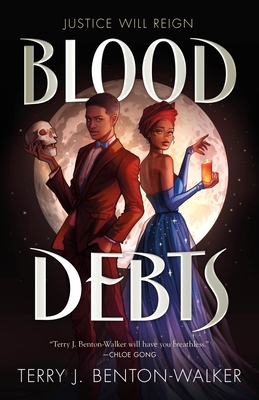 Other Books in Series
This is book number 1 in the Blood Debts series.
May/June 2023 Kids Indie Next List
---
"This book is absolutely phenomenal. Soaked in magic, history, trauma, and joy, this will keep you on the edge of your seat. Terry J. Benton-Walker's must-read mystery is full of tension and plenty of heart. I already need book #2!"
— Cassandra Schulz, Brazos Bookstore, Houston, TX
Description
---
GODS MEDDLE AND MAGIC WILL BETRAY YOU, BUT THIS TIME JUSTICE WILL REIGN.

Terry J. Benton-Walker's contemporary fantasy debut, Blood Debts, is "an extravaganza from start to finish" (Chloe Gong) with powerful magical families, intergenerational curses, and deadly drama in New Orleans.

Featured on NPR Weekend Edition Sunday, Buzzfeed, BookPage, Nerd Daily, POPSUGAR, and more.

"A conjuring of magnificence." —NIC STONE • "A force." —ROSEANNE A. BROWN • "An extravaganza." —CHLOE GONG • "Powerful." —AYANA GRAY • "Sings with hope and rage." —TJ KLUNE • "An unforgettable thrill ride." —J. ELLE • "Steeped in magic." —ALEXIS HENDERSON • "Crackles with mystery and ferocity." —MARK OSHIRO

Thirty years ago, a young woman was murdered, a family was lynched, and New Orleans saw the greatest magical massacre in its history. In the days that followed, a throne was stolen from a queen.

On the anniversary of these brutal events, Clement and Cristina Trudeau—the sixteen-year-old twin heirs to the powerful, magical, dethroned family—are mourning their father and caring for their sick mother. Until, by chance, they discover their mother isn't sick—she's cursed. Cursed by someone on the very magic council their family used to rule. Someone who will come for them next.

Cristina, once a talented and dedicated practitioner of Generational magic, has given up magic for good. An ancient spell is what killed their father and she was the one who cast it. For Clement, magic is his lifeline. A distraction from his anger and pain. Even better than the random guys he hooks up with.

Cristina and Clement used to be each other's most trusted confidant and friend, now they barely speak. But if they have any hope of discovering who is coming after their family, they'll have to find a way to trust each other and their family's magic, all while solving the decades-old murder that sparked the still-rising tensions between the city's magical and non-magical communities. And if they don't succeed, New Orleans may see another massacre. Or worse.

★ "Riveting and relevant." —Kirkus Reviews, starred review
About the Author
---
TERRY J. BENTON-WALKER grew up in rural GA and now lives in Atlanta with his husband and son, where he writes fantasy and horror for adults, young adults, and children. He has an Industrial Engineering degree from Georgia Tech and an MBA from Georgia State. When he's not writing, he can be found gaming, eating ice cream, or both. Blood Debts is his first novel. Terry is also the author of Alex Wise vs the End of the World and editor and contributor of The White Guy Dies First anthology.
Praise For…
---
"Riveting and relevant." —Kirkus Reviews, Starred Review

"Steeped in spiritual lore that takes cues from the rich cultural history of the Black diaspora, Walker paints an evocative picture of an enchanted New Orleans as earthly as it is divine." —Publishers Weekly, Starred Review

"Benton-Walker creates a fantastical thriller and deftly weaves in historical and current-day social issues, including racism, cultural appropriation, sex work, mental health, and homophobia. A complex and intriguing fantasy that is sure to be popular with teens."—School Library Journal

"Blood Debts takes on issues of racism, intergenerational trauma, assault, and homophobia through the fantastical lens of magical families in conflict, but it also finds joy in the power of reclaiming lost knowledge and rebuilding community." —NPR

"Blood Debts is flooded with Southern culture and a magical system inspired by Afro and Afro-Latinx rituals and practices." —Shelf Awareness

"Fully charged with magic and mystery. Blood Debts is an extravaganza from start to finish, weaving age-old family history alongside the tender feelings of new love. Terry J. Benton-Walker will have you breathless by the end." —Chloe Gong, New York Times bestselling author of These Violent Delights

"Riveting. Unflinching. Powerful. Truly, a masterful debut." —Ayana Gray, New York Times bestselling author of Beasts of Prey

"Blood Debts is a force and Terry J. Benton-Walker is truly an author to watch." —Roseanne A. Brown, New York Times bestselling author of A Song of Wraiths and Ruin

"Benton-Walker has crafted a narrative that moves as swiftly and, at times, as devastatingly as a forest fire. Blood Debts sings with hope and barely disguised rage. Fantastic from start to finish." —TJ Klune, New York Times bestselling author of The House in the Cerulean Sea

"Blood Debts is a beguiling family saga, steeped in magic that's every bit as dark as it is moving." —Alexis Henderson, author of The Year of the Witching and House of Hunger

"A stunningly complicated, delicious family drama that readers are going to devour. Clem and Cristina are beautifully nuanced, real characters, and the world they're in crackles with mystery and ferocity. The real magic is this book—don't let it slip through your fingers." —Mark Oshiro, author of Anger is a Gift

"The intricately woven threads of magic, intergenerational trauma, and well-placed social commentary make it impossible to ignore or deny one very simple truth: even those perceived as the-least-of-these are deserving of true justice." —Nic Stone, New York Times bestselling author of Dear Martin

"Sharp and searing, Blood Debts is an unforgettable thrill ride bristling with intrigue, magic, and justice. Impossible to put down." —J. Elle, New York Times bestselling author of Wings of Ebony