Ride On (Paperback)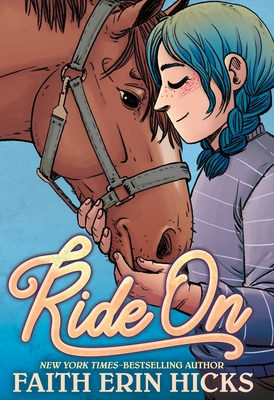 $14.99

Available to order; typically arrives at Bookmarks in 5-10 days
Description
---
In Ride On, this middle grade graphic novel from Faith Erin Hicks, twelve-year-old Victoria is burned out from the high-pressure world or riding competitions. Can she get back to basics and rekindle her love of horses? Perfect for fans of Best Friends and Stargazing!

Victoria has always loved horses. But riding in competitions is high stakes, high stress, and shockingly expensive. And even though Victoria's best friend Taylor loves competing, Victoria has lost her taste for it.

After a heartbreaking fight with Taylor, Victoria needs a new start—at a new stables. A place where she doesn't have to worry about anything other than riding. No competition, no drama, no friends.

Just horses.

Edgewood Stables seems ideal. There are plenty of horses to ride, and Victoria is perfectly happy giving the other riders the cold shoulder.

But can she truly be happy with no friends?
About the Author
---
Faith Erin Hicks is a writer and artist who lives in Vancouver, Canada. Her published works include Friends with Boys, The Adventures of Superhero Girl, The Last of Us: American Dreams (with Neil Druckmann), The Nameless City trilogy, Comics Will Break Your Heart, and the New York Times bestselling Pumpkinheads (with Rainbow Rowell).
Praise For…
---
A Junior Library Guild selection

"Featuring funny dialogue and Hicks's signature art—including sharply rendered horses in motion—this attentively layered, low-stakes graphic novel is told with an insider's understanding of both stable culture and fandom." —Publisher's Weekly, starred review

"Hicks gives her uncommon depth, thanks to multifaceted and distinctive characters, nuanced conversations about passion and privilege, and heartening emotional growth. A solid, well-wrought comic for fans of character-driven stories and, naturally, anyone obsessed with riding horses." —Booklist, starred review

"A 'perfect ride' of a graphic ­novel that shows that there really is something special about horse friends."—School Library Journal, starred review

"With snappy dialogue and spot-on pacing, the pages fly by, making this breezy read appealing to horse lovers, sci-fi-fandom aficionados, and those who live for excellent graphic novels alike." —Horn Book

"Hold on to your horses, because this book will be flying off the shelves!"— Jennifer L. Holm, NY Times-bestselling author and co-creator of Sunny Side Up

"A charming, satisfying and relatable read. I loved spending time with every one of the characters." — Hope Larson, author of All Summer Long

"Ride On is a heartfelt coming-of-age story that will be treasured by any horse lover. Faith Erin Hicks has made a beautiful graphic novel about facing your fears, making friends, and following your heart." —Kristen Gudsnuk, author of Making Friends.