The Night Country: A Hazel Wood Novel (The Hazel Wood #2) (Hardcover)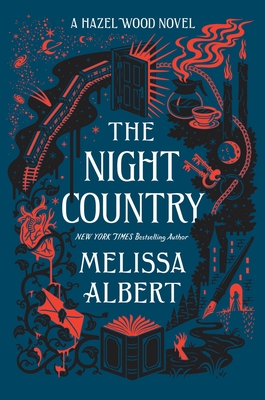 Other Books in Series
This is book number 2 in the The Hazel Wood series.
Staff Reviews
---
The Hazel Wood was merely the introduction to the dark and sinister world of fairy tales that Albert so lovingly crafted, and the Night Country is the firing of the cannon and the explosion and aftermath that follows. Alice as you know was left stranded, essentially, in the real world, with nothing to really anchor herself to a life worth living. So if you're like me, you wanted to know what was next, you wanted to see Alice at least have some sort of happiness to her name, no matter how dark the story is meant to be. And Albert certainly delivers on everything you could ever want as a fan of the first book. It's a perfect middle and end to this world that we've adored since 2018, and maybe will continue to enjoy! However Melissa Albert sees fit, I'm positive she'll build us a story that's worthy of our wildest childhood dreams.
— Cat
Two years have passed since the events of "The Hazel Wood": the shattering of stories as they freed themselves from The Spinner and the cyclical world of Hinterland. Now, back in the city she used to call home, Alice makes attempts to side with a normal human life as she graduates from high school and attends meetings with other Hinterlanders to help cope with their new way of life. As Alice begins to feel like she's finally broken away from her story, Alice-Three-Times, murders begin to crop up around the Hinterlanders. While the new world the Hinterland have found themselves in starts to shift and whisper shadows of their home, Ellery Finch is making his way to the real world and back to Alice. But will he make it back in time to save the Hinterland, and stop the coming of The Night Country? A brilliant sequel to "The Hazel Wood", Melissa Albert's "The Night Country" spins an even darker web of storybook tales around Hinterland and burns with the passion one feels when the only thing they want most in the world, and all others, is to go home.
— Lany
Alice (Three-Times) Proserpine may have escaped the Hinterland, but her Story is far from over. Months after her escape from a twisted fairy tale, the Spinner, and the Hazel Wood, Alice has finally begun to assimilate into human life. However, her new life has come at a price. Ex-Stories flee the Hinterland in droves as fairy tales unravel and the Hinterland begins to die, expelling dangerous and dark creatures into the heart of New York. Though Alice may want nothing to do with them, the Hinterlands want everything to do with her - especially when a murderer with a taste for Hinterland blood starts a killing spree. Meanwhile, Ellery Finch bears witness to the mass exodus from the Hinterland and searches for new worlds - and a way back to Alice. With help from a mysterious fellow traveler, Ellery discovers that Alice may not be so far away...but reaching her may just cost him everything. The Night Country brings back Albert's intoxicating, rich style and pulls no punches. It is just as lyrical, just as dark, and even more compelling than The Hazel Wood. At first I wondered if a sequel was necessary, but after tearing through this book in one night, I am absolutely spellbound and utterly grateful that Albert gave us another run with Alice and Ellery. To anyone who was left unsatisfied with the end of The Hazel Wood: this is for you. (Well...and everyone else, really.)
— Cailey
Description
---
The New York Times bestselling sequel to Melissa Albert's beloved The Hazel Wood!

In The Night Country, Alice Proserpine dives back into a menacing, mesmerizing world of dark fairy tales and hidden doors of The Hazel Wood. Follow her and Ellery Finch as they learn The Hazel Wood was just the beginning, and that worlds die not with a whimper, but a bang.

With Finch's help, Alice escaped the Hinterland and her reclusive grandmother's dark legacy. Now she and the rest of the dregs of the fairy tale world have washed up in New York City, where Alice is trying to make a new, unmagical life. But something is stalking the Hinterland's survivors—and she suspects their deaths may have a darker purpose. Meanwhile, in the winking out world of the Hinterland, Finch seeks his own adventure, and—if he can find it—a way back home...

Don't miss Tales from the Hinterland, coming January 12, 2021!
About the Author
---
Melissa Albert is the author of the Hazel Wood series and a former bookseller and YA lit blogger. Her work has been translated into more than twenty languages. She's from Illinois and lives in Brooklyn with her family.
Praise For…
---
A New York Times bestseller

"A charming, mysterious fable that unpacks what it means to be a story and whether we are all simply the stories we hear and tell." —Cassandra Clare, author of the Mortal Instruments series

"What Albert renders on the page is audacious: with resounding success, she keeps a firm grip on her characters and their stories, and her prose weaves a magic of its own, animating the ever-expanding fantastical premise through lyrical language, striking metaphor, and a mastery of tone that forces readers to feel the magic along with the underlying emotional stakes." —Booklist, starred review

"This fairy tale noir adventure blends romance and mystery with plenty of action...a must-read for fans of portal fantasies, mysteries, and readers who prefer their magic with bloody sharp edges." —School Library Journal, starred review

"Albert's legion of fans will relish her return to the bloody, terrifying, seductive world of her debut and the inventive brilliance of her storytelling." —The Guardian

"Rife with long-forgotten ghosts, unforgettable tales of fancy, and even a touch of romance, Albert shines in her sophomore novel, pulling the reader once more into the haunting depths of the Hinterland, where Stories rule, whether they know it or not." —Paperback Paris

Praise for The Hazel Wood

New York Times bestseller
Seven starred reviews
#1 Indie Next Pick
Junior Library Guild Selection
ALA's Best Fiction for Young Adults List
Publishers Weekly Flying Start

"The Hazel Wood starts out strange and gets stranger, in the best way possible. Albert seamlessly combines contemporary realism with fantasy, blurring the edges in a way that highlights that place where stories and real life convene, where magic contains truth, and the world as it appears is false, where just about anything can happen, particularly in the pages of a good book. It's a captivating debut." —The New York Times Book Review, 2018 Notable Children's Book

"An original and imaginative fairy tale: thrilling, fascinating, and poignant in equal measure." —Entertainment Weekly, Best YA Book of the Year

"Insidiously beautiful, this is the opposite of escapist fantasy; it is a story about the imagination's power to loose atrocity into the (mostly) law-abiding confines of the real." —The Guardian, Best Children's Book of the Year

"A darkly brilliant story of literary obsession, fairy-tale malignancy, and the measures a mother will take to spare her child." —The Wall Street Journal, Best Children's Book of the Year

"This extremely creepy, wondrously original and beautifully written book conjures up a dark, bloody netherworld of fairy tales and enchants and enthralls from the first sentence to the final page." —The Buffalo News