Deal with the Devil: A Mercenary Librarians Novel (Paperback)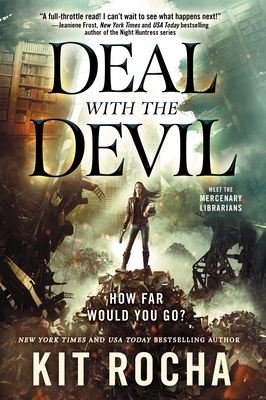 Other Books in Series
This is book number 1 in the Mercenary Librarians series.
Staff Reviews
---
Reckless, boundless, and utterly without brakes, DEAL WITH THE DEVIL is a sexy thrill ride from start to finish. In a country where the government has fallen apart decades after solar flares decimated the grid, the capitalist giant TechCorps has risen to the station of god and tyrant in Atlanta. Beneath their shadow, thieves and mercenaries battle it out over dwindling resources - and Nina should be no different. But she, and her crew, are guinea pigs of superhuman projects that have made them into the deadliest women around...and the most unlikely of neighborhood librarians. When former TechCorps soldier Garrett Knox is ordered to kidnap Nina for the survival of his own crew, he is completely unprepared for the tension that will rise between them both. And neither are ready for the secrets between them that could topple an empire. (Or just get them all killed.) Bring on the next book!
— Cailey
Description
---
Deal with the Devil is Orphan Black meets the post-apocalyptic Avengers by USA Today and New York Times bestselling author duo Kit Rocha.

Nina is an information broker with a mission—she and her team of mercenary librarians use their knowledge to save the hopeless in a crumbling America.

Knox is the bitter, battle-weary captain of the Silver Devils. His squad of supersoldiers went AWOL to avoid slaughtering innocents, and now he's fighting to survive.

They're on a deadly collision course, and the passion that flares between them only makes it more dangerous. They could burn down the world, destroying each other in the process…

Or they could do the impossible: team up.

This is the first book in a near-future science fiction series with elements of romance.
About the Author
---
KIT ROCHA is the pseudonym for the New York Times and USA Today bestselling author duo Donna Herren and Bree Bridges. They are best known for their gritty and sexy dystopian BEYOND series, and were the first indie authors to receive a Romantic Times Reviewers' Choice Award. They currently live three miles apart in Alabama and spend their non-writing time caring for a menagerie of animals and crafting handmade jewelry, all of which is chronicled on their various social media accounts.
Praise For…
---
"A full-throttle read! I can't wait to see what happens next!"—Jeaniene Frost, New York Times and USA Today bestselling author of the Night Huntress series

"Hard-hitting, unflinching, brutally, beautifully written, and surprising even in the last act. It pulls off a few tricks I would have called cliches past redeeming. I am SO impressed." —Seanan McGuire, New York Times bestselling author

"Compelling characters, white-knuckle action, and deceptively smooth worldbuilding make this first Mercenary Librarians book a satisfying and cinematic escape." —Booklist, *STARRED* review

"A rollicking good time complete with warrior women, cybernetically enhanced super soldiers and a treasure hunt in a post-democracy United States… like something out of an Avengers flick, [Deal With the Devil] is a solid sci-fi debut with unforgettable characters." —Bookpage, *STARRED* review

"A roller coaster of nail-biting thrills combined with top-notch world-building, palpable heat, and real emotional stakes. You're going to love it." —Gwenda Bond, New York Times bestselling author of Stranger Things: Suspicious Minds

"High-stakes action and plenty of chemistry, DEAL WITH THE DEVIL absolutely crackles!"—Chloe Neill, New York Timesand USA Today bestselling author

"The sizzling sexual tension is simply the icing that makes DEAL WITH THE DEVIL one of my favorite SF reads ever."—Alyssa Cole, award-winning author

"My advice? Cancel your plans so you can get swallowed up in Kit Rocha's exciting new world."—Thea Harrison, New York Times and USA Today bestselling author

"An exhilarating start to what promises to be a compelling series... bring on the next Mercenary Librarians adventure!"—Nalini Singh, New York Times bestselling author

"Complicated characters, complex stakes, and worldbuilding on a grand scale, I loved this book. Pre-order--and get multiple copies for friends, too!"—Melissa Marr, New York Times bestselling author of the Wicked Lovely series

"Nina is everything I love in a heroine—smart and badass, but with a core of hope and kindness. And Knox is jaded, honorable, and so very conflicted. I loved it!"—Jessie Mihalik, author of Polaris Rising

"An explosive start to a brilliant new series. Tough, gritty, and smart, with sharp sparks of humor, and overflowing with heart and hope. I loved it. I can't wait for more."—Suzanne Brockmann, New York Times bestselling author

"A risky and frisky adventure."—Kirkus Reviews

"Rocha capably deploys found family and forbidden love tropes while keeping readers on their toes with unpredictable action beats. This postapocalyptic tale of espionage and romance will have readers eager to know what happens next."—Publishers Weekly

"Rocha slide into traditional publishing with a high-action, high-stakes sf romance. Intriguing characters, tragic backgrounds, and a few twists comprise a strong launch to this new series."—Library Journal

"[Deal with the Devil] has identified a pressing need: information may want to be free, but it also wants to kill us." —The New Scientist

"There are not enough positive words in the dictionary for how I feel about this book. Kit Rocha's DEAL WITH THE DEVIL has great worldbuilding, lovely angst, post-apocalyptic mayhem, gripping combat scenes, and a lot of romance. With competent women, soldiers with a burgeoning conscience, and friends supporting friends, this is a happy and diverting book we all need right now." —Fresh Fiction