Witchmark (The Kingston Cycle #1) (Paperback)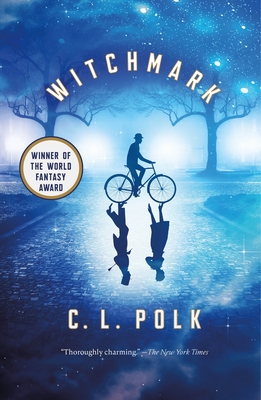 Other Books in Series
This is book number 1 in the The Kingston Cycle series.
Staff Reviews
---
A perfect blend of fantasy, mystery, and romance set in an alternative Edwardian England! Miles is a witch hiding from his family, but things change as he becomes increasingly aware of a threat to his homeland that only he can protect his people from. I loved this ethereal, clever book!
— Kate
July 2018 Indie Next List
---
"Magic, adventure, dastardly plots, otherworldly creatures, conspiracies, romance, bicycle chases—all of this and more awaits readers in this dazzling debut. Half fantasy, half steampunk, the enchanting world of Aeland is a place where anything can happen—and does. With dry wit, Polk draws you into the mind of Miles, a doctor who must keep his magical abilities secret as he tries to unravel the mystery of why so many of Aeland's soldiers are returning from war traumatized and murderous. Complicating his search for answers are his high-society sister, a possibly murdered newspaper reporter, and an irresistible but dubious being from a realm beyond the living. Witchmark is magically engaging from the first sentence to the last and will have you turning pages long after you should have gone to bed."
— Holly Roberts via Marya Johnston, Out West Books, Grand Junction, CO
Description
---
WINNER of the 2019 World Fantasy Award for Best Novel, and a finalist for the Nebula Award, the Locus Award, and the Lammy Award!

One of the 100 Best Fantasy Books of All Time, according to Time Magazine

One of the best books of 2018, according to NPR, Publishers Weekly, BuzzFeed, the Chicago Review, BookPage, and the B&N Sci-Fi and Fantasy Blog.

The Kingston Cycle is One of Reader's Digest Top 25 Best Fantasy Series Ever Written

C. L. Polk arrives on the scene with Witchmark, a stunning, addictive fantasy that combines intrigue, magic, betrayal, and romance. The New York Times calls it "thoroughly charming and deftly paced... an accomplished and enjoyable debut."

In an original world reminiscent of Edwardian England in the shadow of a World War, cabals of noble families use their unique magical gifts to control the fates of nations, while one young man seeks only to live a life of his own.

Magic marked Miles Singer for suffering the day he was born, doomed either to be enslaved to his family's interest or to be committed to a witches' asylum. He went to war to escape his destiny and came home a different man, but he couldn't leave his past behind. The war between Aeland and Laneer leaves men changed, strangers to their friends and family, but even after faking his own death and reinventing himself as a doctor at a cash-strapped veterans' hospital, Miles can't hide what he truly is.

When a fatally poisoned patient exposes Miles' healing gift and his witchmark, he must put his anonymity and freedom at risk to investigate his patient's murder. To find the truth he'll need to rely on the family he despises, and on the kindness of the most gorgeous man he's ever seen.
About the Author
---
C. L. Polk is the author of the World Fantasy Award winning novel Witchmark, the first novel of the Kingston Cycle. After leaving high school early, they have worked as a film extra, sold vegetables on the street, and identified exotic insect species for a vast collection of lepidoptera before settling down to write silver fork fantasy novels. Polk lives near the Bow River in Calgary, Alberta, in a tiny apartment with too many books and a yarn stash that could last a decade. They ride a green bicycle with a basket on the front. They spend too much time on Twitter.
Praise For…
---
"Thoroughly charming and deftly paced." —The New York Times

"Invigoratingly original, crisply and subtly and wittily written." —Anthony Rapp

"C.L. Polk's Witchmark is a delightfully compulsive read. With an intriguing alternate world of magic and modernity and the costs of both, and an endearing protagonist in Dr. Miles Singer — more, please!" —Carrie Vaughn

"Enthralling, fast-paced, and romantic, Witchmark unveils a fascinating world. Polk writes with assured ease. I can't wait for her next book!" —Elizabeth Hoyt

"This book has it all: alternate history Edwardian world, magic system world-building, murder mystery, family drama, examination of class systems — did I mention magic? — and a sweet male/male romance." —Alyssa Cole

"A crackler, with layers like a nesting doll and just as delightful to discover. Witchmark is a can't-miss debut that will enchant readers." —Booklist, starred Review

"Polk's stellar debut... blends taut mystery, exciting political intrigue, and inventive fantasy... Polk is a writer to watch." —Publishers Weekly, starred Review

"The world of this new series feel rich and familiar, yet wholly unique. The atmosphere is perfect for this tale of dangerous magic, lost souls and lonely hearts." —RT Book Reviews

"The subtle ways Polk builds her characters, reveals the systems under which they live and unwinds a complicated, twisting plot with both personal and political implications are testaments to her skill as a storyteller." —Shelf Awareness

"This book has romance, mystery, witch battles, and bicycle chases." —Elizabeth Bear

"Glowing with expertly handled magic, in a deeply-layered alternate world, Polk's Witchmark is a serious mystery and a steaming romance. I'm enchanted." —Fran Wilde

"Witchmark is a brilliant read, full of atmosphere and thrills, likable characters, and more than a bit of romance. It is a remarkable debut!" —Los Angeles Public Library

"If you need a fun queer period adventure romance, you'll want to add this to your TBR pile." —Aliette de Bodard

"Witchmark is an exciting, accomplished and wonderfully written debut. C.L. Polk has created a world which, while recognisable, is nonetheless wholly original — the perfect setting for a fast-paced, complex and wonderfully characterised story." —Foz Meadows

A Reader's Digest Top 25 Best Fantasy Series Ever Written