American Judicial Process: Myth and Reality in Law and Courts (Hardcover)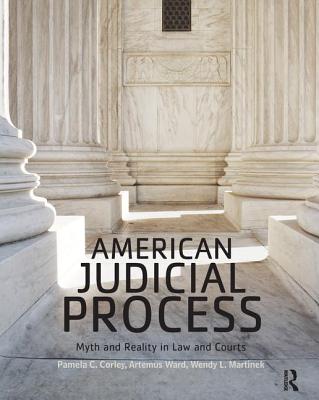 Email staff@bookmarksnc.org for price & availability
Description
---
This text is a general introduction to American judicial process. The authors cover the major institutions, actors, and processes that comprise the U.S. legal system, viewed from a political science perspective. Grounding their presentation in empirical social science terms, the authors identify popular myths about the structure and processes of American law and courts and then contrast those myths with what really takes place. Three unique elements of this "myth versus reality" framework are incorporated into each of the topical chapters:
1) "Myth versus Reality" boxes that lay out the topics each chapter covers, using the myths about each topic contrasted with the corresponding realities.
2) "Pop Culture" boxes that provide students with popular examples from film, television, and music that tie-in to chapter topics and engage student interest.
3) "How Do We Know?" boxes that discuss the methods of social scientific inquiry and debunk common myths about the judiciary and legal system.
Unlike other textbooks, American Judicial Process emphasizes how pop culture portrays--and often distorts--the judicial process and how social science research is brought to bear to provide an accurate picture of law and courts. In addition, a rich companion website will include PowerPoint lectures, suggested topics for papers and projects, a test bank of objective questions for use by instructors, and downloadable artwork from the book. Students will have access to annotated web links and videos, flash cards of key terms, and a glossary.
About the Author
---
Pamela C. Corley is currently Associate Professor and Director of the Law and Legal Reasoning Minor in the Political Science Department at Southern Methodist University, where she teaches classes on judicial process, civil rights, First Amendment, criminal procedure, and jurisprudence. She received her J.D. and Ph.D. from Georgia State University.Artemus Ward is currently Professor of Political Science at Northern Illinois University, where he teaches classes in public law and American politics. He received his Ph.D. from the Maxwell School Citizenship and Public Affairs at Syracuse University and was formerly a staffer on the U.S. House Judiciary Committee.Wendy L. Martinek is currently Associate Professor of Political Science at Binghampton University (SUNY), where she teaches classes in constitutional law, judicial politics, and political methodology. She received her M.A. from the University of Wisconsin-Milwaukee and her Ph.D. from Michigan State University, and was formerly a program officer for the Law and Social Sciences Program of the National Science Foundation.