Advances in Macrofungi (Progress in Mycological Research) (Hardcover)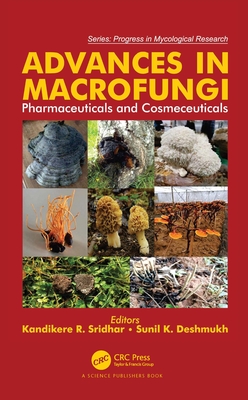 Description
---
Large scale cultivation of macrofungi is possible with fermentation, using easily accessible lignocellulosic agricultural residues utilising economical methods to generate substantial biomass, food and biofuels. Bioconversion of lignocellulosic wastes by macrofungi generates value-added fungal nutritional biomass for humans and livestock. Besides commercial cultivation techniques, other topics covered include healing potential of mushrooms, industrial opportunities, mycelium-based products, forest wild mushrooms and industrial applications of white rot fungi.
This book addresses the various applications of macrofungi. It encourages readers to explore non-conventional sources of nutrition as well as bioactive metabolites to serve as nutraceuticals. The volume emphasizes the significance of macrofungi as source of bioactive compounds to remedy human lifestyle diseases especially cancers and cardiovascular ailments along with immunostimulation potential by Cordyceps. This book also emphasises on the role of mushrooms as a source of cosmeceuticals, source of flavors, essence, scents and perfumes.
About the Author
---
Kandikere R. Sridhar is an Adjunct Professor in the Department of Biosciences, Mangalore University and Yenepoya (deemed to be) University. His main areas of research are 'Diversity and Ecology of Fungi of the Western Ghats, Mangroves and Marine Habitats'. He has been NSERC postdoctoral fellow/visiting professor in Mount Allison University, Canada; Helmholtz Centre for Environmental Research-UFZ and Martin Luther University, Germany; Centre of Biology, University of Minho, Portugal. He is Fellow of the Indian Mycological Society, Kolkata (2014), Distinguished Asian Mycologist (2015), etc. and is considered among the top scientists in the world in mycology. Sunil K. Deshmukh is a veteran industrial mycologist who spent a substantial part of his career at Hoechst Marion Roussel Limited and Piramal Enterprises Limited. He is a fellow of Mycological Society of India (MSI) and served as Adjunct Associate Professor at Deakin University, Australia and worked towards the development of natural food colors, antioxidants and biostimulants through nanotechnology intervention.