Any Sound You Can Imagine: Making Music/Consuming Technology (Paperback)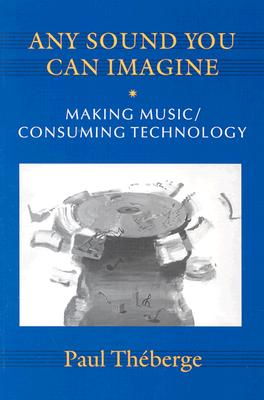 Email staff@bookmarksnc.org for price & availability
Description
---
Describes digital musical instruments, industries that supply and promote them, and the meanings they have for musicians.

Winner of the International Association for the Study of Popular Music (IASPM) Book Award (1997)

Recent innovations in musical instrument design are not simply a response to the needs of musicians, writes Paul Th berge; they also have become "a driving force with which musicians must contend." He argues that digital synthesizers, samplers, and sequencers in studio production and in the home have caused musicians to rely increasingly on manufacturers for both the instruments themselves as well as the very sounds and musical patterns that they use to make music.

Musical practices have thus become allied with a new type of consumer practice that is altogether different from earlier relationships between musicians and their instruments as a means of production. Th berge places these developments within a broad social and historical perspective that examines the development of the musical instrument industry, particularly the piano industry, the economic and cultural role of musicians' magazines and computer networks, and the fundamental relationships between musical concepts, styles, and technology.