Gardening in the Desert: A Guide to Plant Selection and Care (Paperback)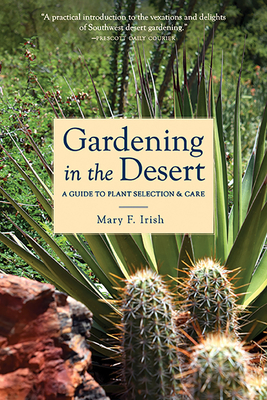 $17.95

Order Processes in 1-5 Days Depending on Store Stock
Description
---
Newcomers to the Southwest usually find that their favorite landscape plants aren't suited to the hot, dry climate. Many authors offer advice on adapting plants to the desert; now Mary Irish tells how gardeners can better adapt themselves to the challenge.
Drawing on her experience with public horticulture in the Phoenix metropolitan area, Irish explores the vexations and delights of desert gardening. She offers practical advice on plants and gardening practices for anyone who lives in the Southwest, from El Paso to Palm Springs, Tucson to Las Vegas.
Irish encourages readers who may be new to the desert—or desert dwellers who may be new to gardening—to stop struggling against heat, aridity, and poor soils and instead learn to use and appreciate the wonderful and well-adapted plants native to the desert. She shares information and anecdotes about trees, shrubs, perennials, agaves, cacti, and other plants that make gardening in the Southwest a unique experience, and provides further information about plants from other desert regions that will easily adapt to the Southwest. In addition to descriptions of plants, Irish also offers tips on planting, watering, pruning, and propagation.
For anyone who has struggled to maintain a patch of green or blanched at their water bill after unproductive irrigation, the answer to an attractive landscape may be as close as the desert around you. And for anyone who has bought a catalog guide to desert plants and not known which to choose, this book can set you on the right path. Mary Irish shows how to take heart in available plants of adaptable beauty in a book to enjoy while waiting for the next planting cycle.
About the Author
---
Mary F. Irish is a garden writer, speaker, and consultant in desert horticulture in Scottsdale, Arizona. She was Director of Public Horticulture for the Desert Botanical Garden for eleven years and is the author of Agaves, Yuccas and Related Plants with her husband, Gary Irish.
Praise For…
---
"An excellent guide to gardening in arid conditions with alkaline soil. It is based on using plants that tolerate these conditions rather than on transplants that depend on an excess of water for survival. . . . The author remarks that desert gardens tend to veer between two extremes—an attempt to re-create a more temperate, water-rich environment and a minimalist approach involving gravel and perhaps a lone cactus. She offers another alternative—a garden based on a rich mix of plants that are naturally designed to grow under harsh desert conditions. . . . Irish's tone is helpful and informative."—New Mexico Magazine