Introduction to Homeland Security (Paperback)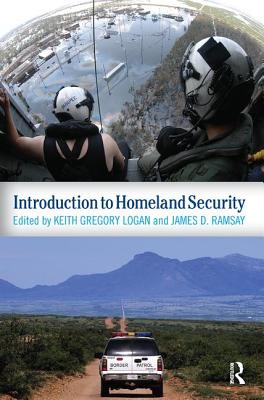 Description
---
This book introduces students to the dynamic and complex enterprise that is homeland security. Using a broad lens, the authors explore key operational and content areas, as well as the practices and policies that are part of an effective homeland security program. With original essays from academics and practitioners, the book encapsulates the breadth of homeland security as it exists today. Topical coverage includes: administration, intelligence, critical infrastructure protection, emergency management, terrorism and counterterrorism, law and policy, technology and systems, strategic planning, strategic communication, civil-military affairs, private sector involvement, environmental security, and public health. Accessible, engaging, and comprehensive, this is an essential resource for courses on homeland security.
About the Author
---
Keith Gregory Logan is an associate professor of criminal justice at Kutztown University and the editor/author of Homeland Security and Intelligence. A former federal law enforcement officer and security officer, he also served as a Special Assistant United States Attorney in the District of Columbia and the Eastern District of Virginia (EDVA). James D. Ramsay is professor and coordinator of the Homeland Security program at Embry-Riddle Aeronautical University. Dr. Ramsay currently serves as the chair of the American Society of Safety Engineers (ASSE) Education Standards Committee and is the accreditation coordinator for the Homeland Security Defense Education Consortium Association.
Praise For…
---
Praise for Introduction to Homeland Security edited by Keith Gregory Logan and James D. Ramsay
"
Introduction to Homeland Security
provides a unique and practical insight into the strategies, resources, organization and administration of homeland security. Homeland security, public administration, and security students and professionals will find this an essential resource that they will refer to again and again. The book outlines the creation and development of the Department of Homeland Security (DHS) following the terrorist attack on September 11, 2001, covering its history, organization, programs and policies. This book provides the latest information on a broad array of topics in homeland security including strategic communication, law and policy, emergency management, technology, intelligence, terrorism and counter terrorism, and education." – Linda Kiltz, Ph.D. Assistant Professor of Public Administration, Texas A & M University-Corpus Christi "
Introduction to Homeland Security
comes at a critical time in the maturation of the broader academic discipline. Logan and Ramsay have collected the most significant thinkers in homeland security education to provide an updated framework - perhaps, 'Homeland Security 3.0' - for understanding the multidisciplinary nature of the enterprise for practitioners, faculty, and serious students. 
Introduction to Homeland Security
is the text that I will use for graduate courses, and will strongly recommend to faculty at our partner institutions." – Steve Recca, Naval Postgraduate School "The editors of this text, Logan and Ramsay, have assembled an outstanding compilation of chapters ranging from the organization and administration of homeland security to examining both homeland security resources, as well as strategies, the latter of which is discussed in some detail. The information contained in this text is timely and comprehensive; it is an outstanding textbook for instructors teaching in this new, evolving discipline." –Michelle E. Majewski, Marian University "From the inception of the Department of Homeland Security, through legal and policy issues, strategic planning, technology, and the current state of Homeland Security education, this volume thoroughly covers the broad range of topics that confront professionals in this challenging arena of endeavor. The editors have assembled an excellent cohort of contributors to this volume, and their efforts are well worth reading. Highly recommended for students, educators and lay readers alike
, Introduction to Homeland Security
should prove to be an essential reader in the growing field of literature in this emerging academic discipline." –Gregory Moore, Notre Dame College