Cactus Hotel (Paperback)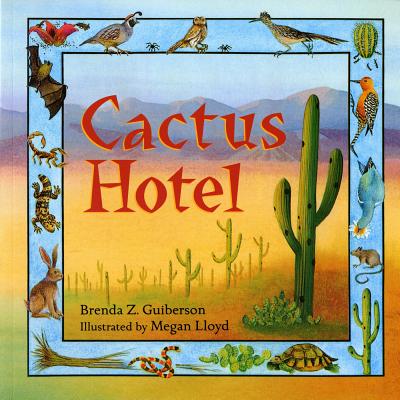 $8.99

For availability, email staff@bookmarksnc.org
Description
---
It is another hot day in the desert. Birds and other animals scurry about looking for food. When they get tired they stop to rest at a giant cactus. It is their hotel in the desert!

Many different animals live in the cactus hotel. It protects them; and they protect it, by eating the pests that could harm the cactus.

The cactus grows larger and larger and will live for about two hundred years. When one animal moves out, another moves in. There is never a vacancy in the cactus hotel.

This story--about a desert, a giant cactus, and the animals who live in it--is one that even the youngest child will understand and enjoy.

Parents' Choice Award
IRA-CBC Teachers' Choice
An NSTA-CBC Outstanding Science Trade Book
An NCTE Notable Trade Book in the Language Arts
About the Author
---
Brenda Z. Guiberson
has written many books for children, including
Cactus Hotel
,
Spoonbill Swamp
,
Moon Bear
and
Disasters
. As a child, Brenda never thought she wanted to be a writer—her dreams tended more toward jungle explorer. She graduated from the University of Washington with degrees in English and Fine Art. She started thinking about writing for children when her son went to elementary school, and she volunteered in his class and in the school library. After taking exciting trips that involved a fifty-foot cactus, hungry alligators and sunset-colored spoonbills, she wanted to create books for children that would be like a field trip. Her books are full of well-researched detail, and Brenda sees this research as an adventure—one that allows her to be a jungle explorer at last. She lives in Seattle, Washington.
Megan Lloyd read the manuscript for Cactus Hotel and went to the Saguaro National Monument in Arizona herself. "I like to see what I am going to illustrate rather than make it up," she says.
Ms. Lloyd is the illustrator of many picture books. She lives in Pennsylvania.
Praise For…
---
"A fascinating look at the life cycle of the giant saguaro cactus and its place in the desert ecosystem." —Booklist

"Guiberson weaves an amazingly large range of facts into this simple story of a fragile ecosystem." —Publishers Weekly