Japanese Dolls: The Fascinating World of Ningyo (Hardcover)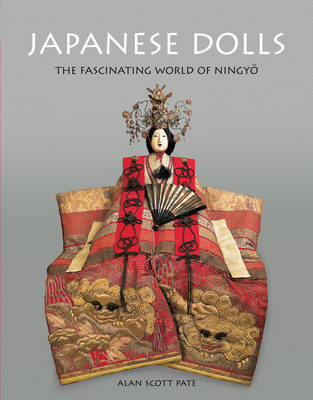 $24.95
Email staff@bookmarksnc.org for price & availability
Description
---
Japanese Dolls: The Fascinating World of Ningyo, is a wealth of information for Japanese art collectors, Asian doll collectors and doll enthusiasts of all levels and interests.
Full of beautiful photographs, the book details 18 kinds of widely collected, obtainable and affordable, antique and vintage dolls and figurines (
ningyo
). Author Alan Scott Pate—the leading American expert on Japanese dolls—writes in illuminating detail about the traditions of each type of doll and shares practical tips on how to collect this amazing Japanese art form.
Included in this guide to Japanese ningyo are:
Festival dolls: hina-ningyo, musha-ningyo, tableau dolls
Display dolls: saga-ningyo, gosho-ningyo, isho-ningyo, iki-ningyo
Wood dolls: kamo-ningyo, nara-ningyo, kokeshi-ningyo
Clay dolls: fushimi-ningyo, hakata-ningyo
Mechanical dolls: karakuri-ningyo, kobe-ningyo
Theatrical dolls: bunraku-ningyo, takeda-ningyo
Play dolls: ichimatsu-ningyo, keue saiko
About the Author
---
Alan Scott Pate was born in Florida and studied in France, Korea, and the United States. He has an MA in East Asian Studies from Harvard University. He is the owner of Akanezumiya in St Ignatius, Montana, which specializes in religious and figural art of Japan from the Edo period and earlier. The leading expert on Japanese dolls in the US, he has curated exhibitions, lectured extensively on Japanese dolls, and published widely in journals focusing on Japanese antiques.
Praise For…
---
"Japanese Dolls: The Fascinating World of Ningyo does an excellent job of illustrating all of the common types of Japanese dolls one might encounter both in Japan and in antique shops, as well as various kinds of dolls which are less common. Whether you are a collector yourself or simply a Japanese culture enthusiast, this book is sure to spark your curiosity. It's a book I'm immensely happy to have in my collection, and I know I will be referring to it often!" —Haiku Girl blog

"This informative book with more than 400 full-color photos of ningyo is worth a look for more information on collecting these artistic and culturally significant dolls" —Maine Antique Digest

"The world of Japanese dolls is a fascinating one to explore and this book will walk you through the aspects of collecting and deciphering the features and characteristics you need to know about. With beautiful color photographs and illustrations of the common types of Japanese dolls found in Japan and in antique shops, this book will become a gem in your collection." —Art Doll Quarterly