Writers & Lovers (Hardcover)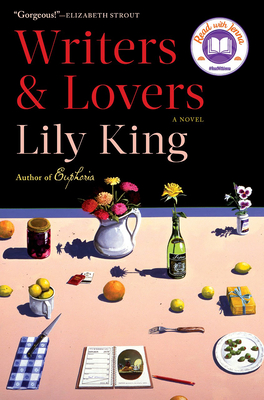 Staff Reviews
---
In WRITERS & LOVERS, Casey Kasem is overwhelmed with all that life has delivered at one time - consuming grief after her mother's unexpected death, heath scares, a mountain of bills, and the struggle to make ends meet all while attempting to write her novel. Lily King takes us on a beautiful exploration of taking our own lives day by day, of friends who show up to make things batter, and identifying what we want and need in our relationships. A beautiful, lyrical novel that I will be recommending to everyone this Spring.
— Beth
In WRITERS & LOVERS, Lily King takes you into the life and mind of thirty-one-year-old Casey Peabody, and it's so entrancing that you'll forget you don't know Casey in real life. At first, Casey doesn't seem special--she's waitressing and living paycheck to paycheck in someone's potting shed. She doesn't have health insurance until she realizes she needs it after a health scare. She's a writer who's been working on the same book for a while and hasn't shown it to anyone. And yet, by the end of the first day I spent with Casey--less than 50 pages, and much of that is flashbacks--I was in love with her and ached for her and believed in her. Although the book begins with Casey processing the aftermath of a break-up and follows her as she meets and dates two wildly different men, the core of the book focuses on her grief over her mother's recent death and her ushering of her first novel into the world, two things that are overtly wrapped up in one another. I savored every word of this book and feel certain that it will be one of my favorite books of 2020.
— Kate
I immediately identified with Casey, the main character in WRITERS & LOVERS. She is no longer a twenty-something, just out of college and working part-time jobs to make ends meet. She's a thirty-one year old, working part-time jobs trying to make ends meet. And usually coming up short. She is struggling to get her life going in the direction she has envisioned it to go. Her dream of becoming a published novelist seems further and further away and everyone around her seems to be moving on. In addition, she is reeling from the sudden death of her mother, recovering from a devastating breakup, and carrying scar tissue from her childhood with a pedophile father. And yet, Casey is resilient and strong. She is a person you admire and respect, and I was cheering for her to have a happy ending. Told with such wit and vulnerability, I think this is a brilliant novel that will appeal to so many different readers.
— Jamie
Casey is overwhelmed with all life served her at one time: consuming grief followeing her mother's unexpected death, health scares, and mountains of bills...all while trying to make ends meet and write a novel. King takes us on a beautiful exploration of taking life day by day, friends showing up to make things better, and identifying what we want and need in relationships. A beautiful, lyrical novel.
— Beth
Description
---
Following the breakout success of her critically acclaimed and award-winning novel Euphoria, Lily King returns with an unforgettable portrait of an artist as a young woman. Blindsided by her mother's sudden death, and wrecked by a recent love affair, Casey Peabody has arrived in Massachusetts in the summer of 1997 without a plan. Her mail consists of wedding invitations and final notices from debt collectors. A former child golf prodigy, she now waits tables in Harvard Square and rents a tiny, moldy room at the side of a garage where she works on the novel she's been writing for six years. At thirty-one, Casey is still clutching onto something nearly all her old friends have let go of: the determination to live a creative life. When she falls for two very different men at the same time, her world fractures even more. Casey's fight to fulfill her creative ambitions and balance the conflicting demands of art and life is challenged in ways that push her to the brink. Writers & Lovers follows Casey--a smart and achingly vulnerable protagonist--in the last days of a long youth, a time when every element of her life comes to a crisis. Written with King's trademark humor, heart, and intelligence, Writers & Lovers is a transfixing novel that explores the terrifying and exhilarating leap between the end of one phase of life and the beginning of another.
About the Author
---
Lily King is the author of the novels The Pleasing Hour, The English Teacher, Father of the Rain, and Euphoria, one of the New York Times Book Review's 10 Best Books of 2014 and winner of the Kirkus Prize. She lives in Maine.