Don't Overthink It: Make Easier Decisions, Stop Second-Guessing, and Bring More Joy to Your Life (Paperback)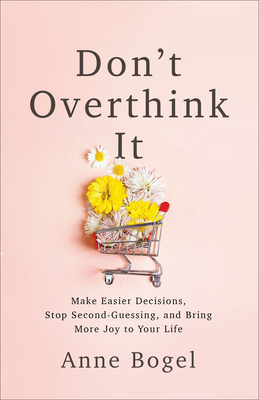 Staff Reviews
---
Preorder now and receive a signed bookplate from Anne Bogel.

Anyone who listens to What Should I Read Next? and One Great Book podcasts or follows the Modern Mrs. Darcy blog knows that Anne Bogel is a treasure of bookish information and practical advice. In her new book, Don't Overthink It, Anne explores a topic that will hit home with many of us in an age of information overload - how to stop overthinking.
In a very personal and practical way, Anne tackles what keeps us up at night, exploring how we can stop stressing about the small things in life and end the vicious cycle of ruminating on our thoughts. She guides readers through how to identify values, limit decision options, and take action to identify the rituals that will make life more enjoyable. Each chapter includes helpful next steps for readers to take to best apply this advice within their own lives.
As someone whose brain seems wired to overthink, I feel like this book was written just for me. Don't Overthink It is a resource I will return to over and over again. I've already applied several key pieces of advice from this book and feel like I'm better able to stop considering options and make better decisions. It's a work in progress, but all the more helpful with Anne Bogel's helpful voice in my head!
— Beth
Description
---
We've all been there: stuck in a cycle of what-ifs, plagued by indecision, paralyzed by the fear of getting it wrong. Nobody wants to live a life of constant overthinking, but it doesn't feel like something we can choose to stop doing. It feels like something we're wired to do, something we just can't escape. But is it?

Anne Bogel's answer is no. Not only can you overcome negative thought patterns that are repetitive, unhealthy, and unhelpful, you can replace them with positive thought patterns that will bring more peace, joy, and love into your life. In Don't Overthink It, you'll find actionable strategies that can make an immediate and lasting difference in how you deal with questions both small--Should I buy these flowers?--and large--What am I doing with my life? More than a book about making good decisions, Don't Overthink It offers you a framework for making choices you'll be comfortable with, using an appropriate amount of energy, freeing you to focus on all the other stuff that matters in life.
About the Author
---
Anne Bogel is the author of Reading People and I'd Rather Be Reading and creator of the blog Modern Mrs Darcy and the podcasts What Should I Read Next? and One Great Book. Bogel's popular book lists and reading guides have established her as a tastemaker among readers, authors, and publishers. She lives in Louisville, Kentucky. You can also find her on Facebook, Twitter, Pinterest, and Instagram.