Stormsong (The Kingston Cycle #2) (Paperback)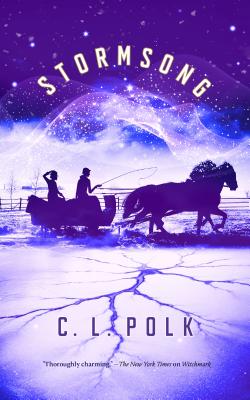 Other Books in Series
This is book number 2 in the The Kingston Cycle series.
Description
---
"Fantastical, thoughtful, and un-put-downable, I flew through Stormsong and want the third in the series NOW." —Elizabeth Hoyt

A Reader's Digest Top 25 Best Fantasy Series Ever Written

After spinning an enthralling world in Witchmark, the winner of the World Fantasy Award for best novel that was praised as a "can't-miss debut" by Booklist, and as "thoroughly charming and deftly paced" by the New York Times, C. L. Polk continues the Kingston Cycle in Stormsong. Magical cabals, otherworldly avengers, and impossible love affairs conspire to create a book that refuses to be put down.

Dame Grace Hensley helped her brother Miles undo the atrocity that stained her nation, but now she has to deal with the consequences. With the power out in the dead of winter and an uncontrollable sequence of winter storms on the horizon, Aeland faces disaster. Grace has the vision to guide her parents to safety, but a hostile queen and a ring of rogue mages stand in the way of her plans. There's revolution in the air, and any spark could light the powder. What's worse, upstart photojournalist Avia Jessup draws ever closer to secrets that could topple the nation, and closer to Grace's heart.

Can Aeland be saved without bloodshed? Or will Kingston die in flames, and Grace along with it?
About the Author
---
C. L. Polk is the author of the World Fantasy Award winning novel Witchmark, the first novel of the Kingston Cycle. After leaving high school early, they have worked as a film extra, sold vegetables on the street, and identified exotic insect species for a vast collection of lepidoptera before settling down to write silver fork fantasy novels. Polk lives near the Bow River in Calgary, Alberta, in a tiny apartment with too many books and a yarn stash that could last a decade. They ride a green bicycle with a basket on the front. They spend too much time on Twitter.
Praise For…
---
PRAISE FOR STORMSONG

"Fantastical, thoughtful, and un-put-downable, I flew through Stormsong and want the third in the series NOW." —Elizabeth Hoyt

"[Stormsong is] a marvelously readable novel set in a fun world." —Locus

"A superb sequel blending political intrigue, witchcraft, and queer romance. This delectable treat is a worthy follow-up to her debut." —Publishers Weekly Starred Review

"Polk's sequel to Witchmark continues to unwrap an intriguing world of magic, political intrigue, and alternate-Edwardian times. Familiar and favorite characters support the young woman who takes center stage, while Polk's charming prose frames an original and witty story filled with action and romantic tension." —Library Journal

"A thoughtful and passionate depiction of one woman's struggle to discover her truest self." —Kirkus Reviews

PRAISE FOR WITCHMARK

"Thoroughly charming and deftly paced." —The New York Times

"Invigoratingly original, crisply and subtly and wittily written." —Anthony Rapp

"C.L. Polk's Witchmark is a delightfully compulsive read. With an intriguing alternate world of magic and modernity and the costs of both, and an endearing protagonist in Dr. Miles Singer — more, please!" —Carrie Vaughn

"Enthralling, fast-paced, and romantic, Witchmark unveils a fascinating world. Polk writes with assured ease. I can't wait for her next book!" —Elizabeth Hoyt

"This book has it all: alternate history Edwardian world, magic system world-building, murder mystery, family drama, examination of class systems — did I mention magic? — and a sweet male/male romance." —Alyssa Cole

"A crackler, with layers like a nesting doll and just as delightful to discover. Witchmark is a can't-miss debut that will enchant readers." —Booklist Starred Review

"Polk's stellar debut... blends taut mystery, exciting political intrigue, and inventive fantasy... Polk is a writer to watch." —Publishers Weekly Starred Review

"The world of this new series feel rich and familiar, yet wholly unique. The atmosphere is perfect for this tale of dangerous magic, lost souls and lonely hearts." —RT Book Reviews

"The subtle ways Polk builds her characters, reveals the systems under which they live and unwinds a complicated, twisting plot with both personal and political implications are testaments to her skill as a storyteller." —Shelf Awareness

"This book has romance, mystery, witch battles, and bicycle chases." —Elizabeth Bear

"Glowing with expertly handled magic, in a deeply-layered alternate world, Polk's Witchmark is a serious mystery and a steaming romance. I'm enchanted." —Fran Wilde

"Witchmark is a brilliant read, full of atmosphere and thrills, likable characters, and more than a bit of romance. It is a remarkable debut!" —Los Angeles Public Library

"If you need a fun queer period adventure romance, you'll want to add this to your TBR pile." —Aliette de Bodard

"Witchmark is an exciting, accomplished and wonderfully written debut. C.L. Polk has created a world which, while recognisable, is nonetheless wholly original — the perfect setting for a fast-paced, complex and wonderfully characterised story." —Foz Meadows

A Reader's Digest Top 25 Best Fantasy Series Ever Written