Clep(r) Principles of Macroeconomics [With CDROM] (Paperback)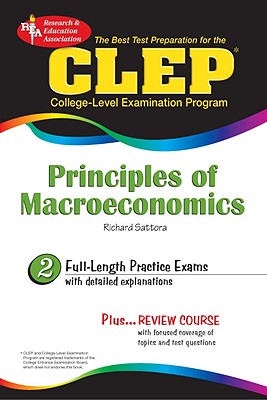 Unavailable in store; contact staff@bookmarksnc.org to check price and order availability
Description
---
Earn College Credit with REA's Test Prep for
CLEP(R) Principles of Macroeconomics Everything you need to pass the exam and get the college credits you deserve. CLEP(R) is the most popular credit-by-examination program in the country, accepted by more than 2,900 colleges and universities. For over 15 years, REA has helped students pass CLEP(R) exams and earn college credit while reducing their tuition costs. Our CLEP(R) test preps are perfect for adults returning to college (or attending for the first time), military service members, high-school graduates looking to earn college credit, or home-schooled students with knowledge that can translate into college credit. The CLEP(R) Principles of Macroeconomics test prep assesses the skills tested on the official CLEP(R) exam. Our comprehensive review chapters cover: aggregate demand and aggregate supply and monetary and fiscal policy tools, such as gross domestic product, consumption, investment, unemployment, inflation, inflationary gap, recessionary gap, and more. The book includes two full-length practice tests. Each exam comes with detailed feedback on every question. We don't just say which answers are right-we explain why the other answer choices are wrong-so you can identify your strengths and weaknesses while building your skills. REA is the acknowledged leader in CLEP(R) preparation, with the most extensive library of CLEP(R) titles available. Our test preps for CLEP(R) exams help you earn college credit, save on tuition, and get a college degree.
About the Author
---
Richard Sattora is a nationally recognized Economics teacher at Excelsior Award-winning Pittsford Mendon High School, Pittsford, N.Y., where he has taught for more than three decades. Designated a Blue Ribbon Teacher of Economics by the Federal Reserve Bank of Dallas, Mr. Sattora's varied background gives him a broad perspective on the subject. In 2005, under Mr. Sattora's direction, Pittsford Mendon's Federal Reserve Challenge Team won the prestigious Fed Challenge national championship.