The Shot Heard 'Round the World (Hardcover)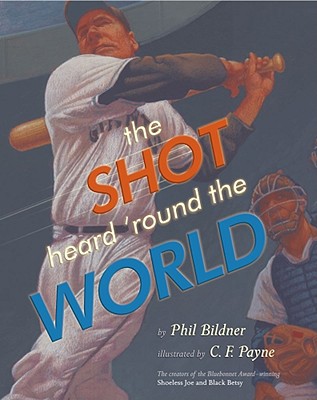 $16.95
Email staff@bookmarksnc.org for price & availability
Description
---
If you lived in Brooklyn in 1951, your life revolved around the Brooklyn Dodgers.
Come summertime you bled Dodger blue.
And it was in that summer of '51 that "Dem Bums" -- what we lovingly called our Dodgers -- caused their biggest stir of all.
For the young Brooklyn Dodger fan in this story, the summer of 1951 was a summer for heroes. The Dodgers, with players like Jackie Robinson, Carl Erskine, and Clem Labine, faced off against the New York Giants in a pennant race that no one had seen the likes of and no one would ever forget.
On October 2, 1951, the New York Giants of the borough of Brooklyn held its breath as the Dodgers faced the Giants for the third, tie-breaking game to determine which team would go on to play the Yankees in the World Series.
More than just a story about baseball, this is a sweeping view of life in Brooklyn in the summer of 1951, from its streets, to its Cyclone, to its stadium. Phil Bildner pitches the ball and C. F. Payne hits a shot to be heard 'round the world giving this renowned story new life.