The Vintage Guide to Classical Music: An Indispensable Guide for Understanding and Enjoying Classical Music (Paperback)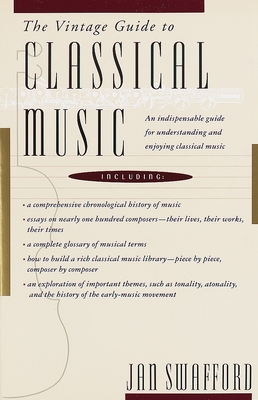 $22.00

For availability, email staff@bookmarksnc.org
Description
---
The most readable and comprehensive guide to enjoying over five hundred years of classical music -- from Gregorian chants, Johann Sebastian Bach, and Wolfgang Amadeus Mozart to Johannes Brahms, Igor Stravinsky, John Cage, and beyond.

The Vintage Guide to Classical Music is a lively -- and opinionated -- musical history and an insider's key to the personalities, epochs, and genres of the Western classical tradition. Among its features:
-- chronologically arranged essays on nearly 100 composers, from Guillaume de Machaut (ca. 1300-1377) to Aaron Copland (1900-1990), that combine biography with detailed analyses of the major works while assessing their role in the social, cultural, and political climate of their times;
-- informative sidebars that clarify broader topics such as melody, polyphony, atonality, and the impact of the early-music movement;
-- a glossary of musical terms, from a cappella to woodwinds;
-- a step-by-step guide to building a great classical music library.

Written with wit and a clarity that both musical experts and beginners can appreciate, The Vintage Guide to Classical Music is an invaluable source-book for music lovers everywhere.
About the Author
---
Composer and writer Jan Swafford received degrees from Harvard and the Yale School of Music; his work has been played throughout the United States and abroad. Among his awards are an NEA Composers Grant, a Tanglewood Fellowship and a Mellon Faculty Fellowship at Harvard.