Women's War: Fighting and Surviving the American Civil War (Paperback)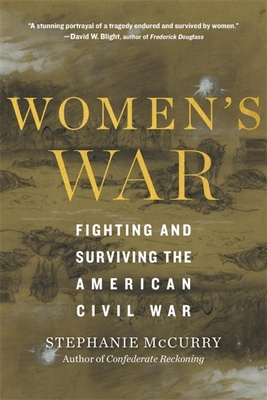 Description
---
Winner of the PEN Oakland-Josephine Miles Award
"A stunning portrayal of a tragedy endured and survived by women."
--David W. Blight, author of
Frederick Douglass
"Readers expecting hoop-skirted ladies soothing fevered soldiers' brows will not find them here...Explodes the fiction that men fight wars while women idle on the sidelines."
--
Washington Post
The idea that women are outside of war is a powerful myth, one that shaped the Civil War and still determines how we write about it today. Through three dramatic stories that span the war, Stephanie McCurry invites us to see America's bloodiest conflict for what it was: not just a brothers' war but a women's war. When Union soldiers faced the unexpected threat of female partisans, saboteurs, and spies, long held assumptions about the innocence of enemy women were suddenly thrown into question. McCurry shows how the case of Clara Judd, imprisoned for treason, transformed the writing of Lieber's Code, leading to lasting changes in the laws of war. Black women's fight for freedom had no place in the Union military's emancipation plans. Facing a massive problem of governance as former slaves fled to their ranks, officers reclassified black women as "soldiers' wives"--placing new obstacles on their path to freedom. Finally, McCurry offers a new perspective on the epic human drama of Reconstruction through the story of one slaveholding woman, whose losses went well beyond the material to intimate matters of family, love, and belonging, mixing grief with rage and recasting white supremacy in new, still relevant terms. "As McCurry points out in this gem of a book, many historians who view the American Civil War as a 'people's war' nevertheless neglect the actions of half the people."
--James M. McPherson, author of
Battle Cry of Freedom
"In this brilliant exposition of the politics of the seemingly personal, McCurry illuminates previously unrecognized dimensions of the war's elemental impact."
--Drew Gilpin Faust, author of
This Republic of Suffering