Time's Undoing: A Novel (Hardcover)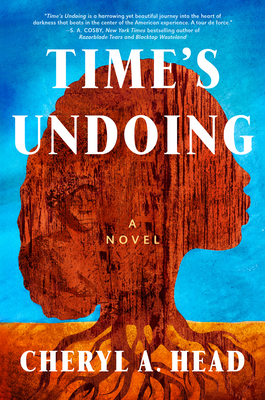 List Price: $28.00
Our Price: $27.00
(Save: $1.00 4%)
March 2023 Indie Next List
---
"Time's Undoing is a first-rate story of racial injustice and redemption. Based on the author's family history, this dual timeline story chronicles a Black man's death in 1929 and his great-granddaughter's efforts to uncover the truth in 2019."
— Trish Brown, One More Page Books, Arlington, VA
Description
---
A searing and tender novel about a young Black journalist's search for answers in the unsolved murder of her great-grandfather in segregated Birmingham, Alabama, decades ago—inspired by the author's own family history

Birmingham, 1929: Robert Lee Harrington, a master carpenter, has just moved to Alabama to pursue a job opportunity, bringing along his pregnant wife and young daughter. Birmingham is in its heyday, known as the "Magic City" for its booming steel industry, and while Robert and his family find much to enjoy in the city's busy markets and vibrant nightlife, it's also a stronghold for the Klan. And with his beautiful, light-skinned wife and snazzy car, Robert begins to worry that he might be drawing the wrong kind of attention. 
 
2019: Meghan McKenzie, the youngest reporter at the Detroit Free Press, has grown up hearing family lore about her great-grandfather's murder—but no one knows the full story of what really happened back then, and his body was never found. Determined to find answers to her family's long-buried tragedy and spurred by the urgency of the Black Lives Matter movement, Meghan travels to Birmingham. But as her investigation begins to uncover dark secrets that spider across both the city and time, her life may be in danger.  
 
Inspired by true events, Time's Undoing is both a passionate tale of one woman's quest for the truth behind the racially motivated trauma that has haunted her family for generations and, as newfound friends and supporters in Birmingham rally around Meghan's search, the uplifting story of a community coming together to fight for change.
About the Author
---
Cheryl A. Head (she/her) is a writer, television producer, and broadcast executive. She is also the author of the award-winning Charlie Mack Motown mysteries, whose female PI protagonist is queer and Black. Head is an Anthony Award nominee, a two-time Lambda Literary Award finalist, a three-time Next Generation Indie Book Award finalist, and winner of the Golden Crown Literary Society's Ann Bannon Popular Choice Award. Her books are included in the Detroit Public Library's African American Booklist and in the Special Collections of the Library of Michigan.  

In 2019, Head was named to the Hall of Fame of the New Orleans Saints and Sinners Literary Festival, and in 2022, she was awarded the Alice B Readers Appreciation Award. Head is vice chair of the national Bouchercon board of directors. She lives in Washington, DC, with her partner, and with Abby and Frisby, who provide canine supervision.
Praise For…
---
Praise for Time's Undoing

"Head . . . brings her gift for strong women protagonists and suspense to this tale about a young, Black, female journalist from Detroit on a dangerous quest. . . . Vivid and affecting . . . This heart-seizing tale even has a touch of the supernatural as it celebrates Black lives."—Booklist (starred review)

"Head excels in this great pleasure of a crime novel. She infuses her challenging subject with a finely calibrated balance of vulnerability, care, and empowerment; the effect is galvanizing. . . . Few books feel more timely or needed than this one."—The Atlantic

"The parallel narratives work with poignancy and righteous rage. So many decades gone, so few inroads made into the racism at the foundation of United States history. Head and her Black colleagues in this genre are lifting up new stories, to everyone's benefit."—NPR

"Depicts the power of friends and community . . . will please the author's fans and readers who enjoy novels with strong women protagonists."—Library Journal

"Inspired by the true story of the author's own family, one of 2023's hottest releases is a dual timeline and dual perspective murder mystery with one foot in 1929 and the other in 2019. . . . Head is a veteran author known for her well-loved Charlie Mack Motown Mystery detective series and this sharply observed stand-alone blending of historical fiction and mystery only burnishes that reputation."—Oprah Daily

"The sort of book you don't want to put down—and you can't forget once you're finished."—Detroit Free Press

"Head paints a vibrant picture of present-day Birmingham. . . . She also brings rich detail to the everyday lives of her characters in 1929. Time's Undoing is an absorbing mystery and a moving lesson in Black history as it plays out in the lives of families through generations."—Tampa Bay Times

"An outstanding stand-alone novel that excavates one woman's family history wrapped in racism, violence, and legend. Head smoothly incorporates those themes in the gripping, believable plot of Time's Undoing."—South Florida Sun Sentinel

"[Time's Undoing is] the latest book to register on the 'future classic seismograph.' . . . It is Cheryl A. Head's ability to authenticate a direct (and emotional) throughline from the past to present that compels Time's Undoing into becoming such an important reading experience."—BOLO Books

"Based on a chapter in Cheryl A. Head's own family tree, it's a compelling examination of history and progress and how far still we have to go as a nation. With a light supernatural element, Time's Undoing is a satisfying examination of how the past continues to affect the present, and of how allowing shame and bigotry to fester only continues to perpetuate violence."—Criminal Element

"Time's Undoing is a compelling tale of duality and strength. . . . [Head] beautifully weaves her own truths into those of her characters through authenticity and emotion, through puzzle pieces of her own. The connection between realities is undeniable, and Head's attention to detail is what makes this story worth reading."—Deep South Magazine

"This is a novel, smooth, highly readable, convincing." —Alabama Public Radio

"Times Undoing is a harrowing yet beautiful journey into the heart of darkness that beats in the center of the American experience. A tour de force."—S. A. Cosby, New York Times bestselling author of Razorblade Tears and Blacktop Wasteland

"Cheryl Head's storytelling skills are on full display in this enjoyable and piercing novel about one young woman's courageous search for answers about her family's past. Time's Undoing is a poignant meditation on how the legacies of both trauma—and triumph—shape our lives. Head's efforts to excavate the past in the pages of this novel is a painful reckoning with racism, but ultimately a hopeful exercise in understanding resilience, grace, and the importance of history to tell us who we are and who we might become, as individuals and as a country. Pull up a chair, book clubs, because there's lots to discuss!"—Christine Pride and Jo Piazza, bestselling authors of We Are Not Like Them

"Head's novel provides not only an in-depth, fascinating portrait of a journalist in pursuit of a story, but also stands as a searing indictment of America's racist legacy, from today's BLM movement to the struggles of Black men and women a hundred years earlier. A suspenseful, immersive read that you won't be able to put down."—Fiona Davis, New York Times bestselling author of The Magnolia Palace

"A captivating and rich narrative of history and murder. Laden with echoes of the long-standing racial bias between Black people and law enforcement, the dual timeline of this suspense-filled story tells of one woman's entanglement and reckoning with it. Immersive. Impassioned. Time's Undoing will have readers hooked from page one. Highly recommended."—Abby Collette, USA Today bestselling author of Soul of a Killer

"Powerful, timely, emotional, and loaded with intensity, Cheryl Head's Time's Undoing uses fiction to do what novels do best—shine a light on society while telling a page-turning story. In Meghan McKenzie, Head has created a fully realized protagonist who guides readers through a haunting tale that is based on true events. Urgent, riveting, and heartfelt—I was immersed from page one."—Alex Segura, bestselling author of Secret Identity

"Cheryl Head's Time's Undoing is truly mesmerizing. What a first-rate melding of painful past and hopeful future told by a master storyteller who gives readers a visceral look at the human cost of hate and fear and both heart and wings to redemptive peace. You won't be able to put it down. I couldn't."—Tracy Clark, author of the Cass Raines Chicago Mystery series

"In Time's Undoing, Cheryl Head establishes herself as a literary star. The clarity of her storytelling unravels the hard truths of racism against Black people in this nation, and how the fight against such injustices is a constant, intentional choice. A must-read novel that is sure to be embraced by a wide audience."—Naomi Hirahara, author of Clark and Division and the Mas Arai mystery series

"Cheryl A. Head's novel Time's Undoing, is a searing and utterly disturbing look at life for the ancestors, and what it meant to be Black and stay alive in the Jim Crow South. But it is also a hopeful and endearing story of love, loss, and the protection of our most precious commodity—a family's history. This book will resonate with anyone who's ever looked at an old family photograph or listened to a story passed down through the generations and wondered, What if?"
—Wanda M. Morris, award-winning author of All Her Little Secrets and Anywhere You Run

"Time's Undoing is time well spent—a heartbreaking dual timeline tale about the murder of a Black man in 1929 Birmingham and his great-granddaughter's dogged attempts to find out what happened ninety years later. Cheryl Head uses her own grandfather's murder at the hands of the local police to craft an unforgettable novel that's a compelling mix of historical family drama, well-plotted mystery, and searing social commentary."—Kellye Garrett, Agatha, Anthony, and Lefty Award–winning author of Like a Sister and Missing White Woman

"Cheryl Head's Time's Undoing is a poignant tale of one family's generational trauma and the strength and bravery of one woman's quest to uncover her history, her truth, and to finally find healing for her family. This is a story told in the most eloquent and gut-wrenching of ways, leaving me completely undone."
—Yasmin Angoe, Anthony Award nominee and author of Her Name Is Knight and They Come At Knight

"Time's Undoing is a deeply absorbing and intricately woven story of racial injustice and the healing power of truth. It confronts the issue of police brutality on the epic scale of decades and generations whilst preserving the intimate, human detail that gives the novel its heart."—Eleanor Shearer, author of River Sing Me Home

"Time's Undoing is a novel both timeless and timely, exploring the complicated connections between a young Black journalist embroiled in the Black Lives Matter movement who decides to investigate a long-standing family mystery: the unsolved murder of her great-grandfather in segregated Alabama decades ago. Cheryl A. Head writes a sensitive and searing tale based on personal family history, which is sure to linger long in the memory."—Kate Quinn, New York Times bestselling author of The Diamond Eye

"Cheryl A. Head weaves a compelling, important tale of institutional racism and long-delayed justice in Time's Undoing. In Head's capable hands, this story of an intrepid reporter with a personal mission becomes both a chronicle of a devastatingly unjust past and a tale of a community working together to find a better way forward. An emotional portrait of the painful legacy of racism in America—and a reminder of how much work we still need to do to build a better future."—Kristin Harmel, New York Times bestselling author of The Forest of Vanishing Stars