Vampires of El Norte (Hardcover)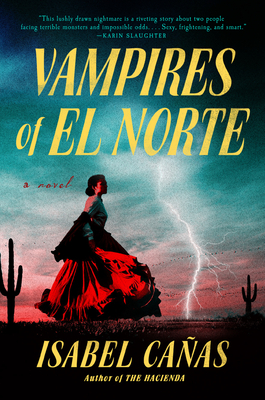 Description
---
AN INSTANT USA TODAY BESTSELLER!

Vampires, vaqueros, and star-crossed lovers face off on the Texas-Mexico border in this supernatural western from the author of The Hacienda.

As the daughter of a rancher in 1840s Mexico, Nena knows a thing or two about monsters—her home has long been threatened by tensions with Anglo settlers from the north. But something more sinister lurks near the ranch at night, something that drains men of their blood and leaves them for dead.

Something that once attacked Nena nine years ago.

Believing Nena dead, Néstor has been on the run from his grief ever since, moving from ranch to ranch working as a vaquero. But no amount of drink can dispel the night terrors of sharp teeth; no woman can erase his childhood sweetheart from his mind.

When the United States invades Mexico in 1846, the two are brought abruptly together on the road to war: Nena as a curandera, a healer striving to prove her worth to her father so that he does not marry her off to a stranger, and Néstor as a member of the auxiliary cavalry of ranchers and vaqueros. But the shock of their reunion—and Nena's rage at Néstor for seemingly abandoning her long ago—is quickly overshadowed by the appearance of a nightmare made flesh.

And unless Nena and Néstor work through their past and face the future together, neither will survive to see the dawn.
About the Author
---
Isabel Cañas is a Mexican American speculative fiction writer. After having lived in Mexico, Scotland, Egypt, Turkey, and New York City, among other places, she has settled in the Pacific Northwest. She holds a doctorate in Near Eastern Languages and Civilizations and writes fiction inspired by her research and her heritage.
Praise For…
---
Praise for Vampires of El Norte

"At once romance, horror, historical fiction, and an adventure narrative about war, Vampires of El Norte elegantly navigates a multiplicity of genres to deliver an engaging story that cements Cañas as one of the best new voices bridging the gap between romance and speculative fiction…The Hacienda was great, but Vampires of El Norte is even better."
—NPR

"A masterclass in horror and romance. This supernatural western *might* give you nightmares, but it's totally worth it."
—Elle

"Underneath the things that go bump in the night is one of the most deeply romantic stories we've read in a while. This is the absolute perfect bridge between summer and fall!"
—USA Today

"Melding historical fiction with supernatural elements and a sweeping romance, Isabel Cañas crafts a lush story that'll appeal to readers of all genres."
—Reader's Digest

"Set during the Mexican-American War—this lushly drawn nightmare is a riveting story about two people facing terrible monsters and impossible odds. Cañas has the ability to tell a story that is at once sexy, frightening, and smart."
—Karin Slaughter, New York Times bestselling author of False Witness

"Lush, captivating, and richly imagined. Here, monstrosity is both human and supernatural; Cañas reminds us that the real horror has always been colonialism. Vampires of El Norte will sink its teeth into you."
—Grace D. Li, New York Times bestselling author of Portrait of a Thief

"Cañas delivers a horror novel full of expressive, sumptuous prose and enlightening historical details."
—Booklist (starred review)

"Cañas masterfully interweaves horror, historical fiction, and romance in this gripping novel."
—BookRiot

"Vampires of El Norte is a chilling horror story, an immersive love story, and a gripping tale of a tumultuous + dangerous moment in history."
—Crime by the Book

"Cañas' second novel is a lush blend of history, folktales and a wildly entertaining, sexy thriller rolled into one gripping gothic horror story."
—HuffPost

"Cañas's background as a historian is on full display here as she writes a rich, confident, and compelling story wrapped in an authentic and detailed frame, with a satisfying romance. The inclusion of vampires intensifies the unease and danger of life in this place and time."
—Library Journal

"Isabel Cañas is carving out a very special place for herself in the horror genre. Vampires of El Norte has wide appeal for readers who enjoy meticulously researched historical novels, novels featuring frightful creatures, or a novels featuring a pair of lovers trying to overcome the obstacles thrown at them to be with each other."
—SFFWorld

"Set in 19th-century Mexico, this vibrant novel combines historical fiction, horror, and romance to tell a thrilling story."
—Shelf-Awareness

"Cañas draws upon a wealth of research in re-creating the Rio Grande Valley in the 1840s, richly weaving in the Mexican War while also delving into horror. The vampires of this tale are incredibly original, a whole new brand of folklore that slowly unspools as the story progresses."
—Kirkus

"A wholly immersive, relentlessly tense, and deeply felt exploration of what it means to be a monster. Isabel Cañas writes with a historian's eye and a storyteller's heart, achieving both a haunting critique of colonialism and a riveting, star-crossed love story. With vampires! A generous, wildly entertaining novel that invites me further into my own history—I am grateful for this book."
—Katie Gutierrez, bestselling author of More Than You'll Ever Know

"A hypnotic, genre-bending supernatural historical novel that grabs you from the opening sentence. Haunting and pulsing with emotion, Cañas's writing crafts a world where monsters are real - but they might not be the kind you're thinking of. A one-of-a-kind novel that only she could write."
—Alex Segura, bestselling author of Secret Identity

"A tantalizing tale of romance and monsters—both of human and supernatural varieties. Historical fiction is at its best as events from the Mexican-American War of 1846 intertwine with those affecting the fate of star-crossed childhood lovers. This genre-bending story intensifies dread, suspense, and supernatural menace among the inhabitants of the Rio Grande Valley, culminating in a page-turner."
—Mystery & Suspense Magazine

"Isabel Cañas creates a tale where vampires and westerns collide, resulting in an intriguing book...."
—The Escapist

"Isabel's writing  is lush, vivid, and lends itself perfectly to this tale about vampires. I loved the Mexican history and culture interwoven with characters who reflected this beautifully. We need more stories like this to bring freshness to old tropes. If you are a vampire fan, I promise you will want to grab this one now. Isabel is an exciting voice you should be reading."
—V. Castro, author of The Queen of The Cicadas

"If the title doesn't grip you right away, the promise of Cañas' powerful blend of historical fiction and horror definitely should."
—Paste

"Romance—and fright—ensues."
—Texas Monthly

"...[A] refreshing read from a growing subgenre: colonial Gothic/Western horror."
—Historical Novel Society

"This larger-than-life "supernatural western" successfully blends historical details and original storytelling."
—Ms. Magazine

"An excellent, action packed novel, featuring two characters you root for...."
—Red Carpet Crash

"[A] perfect combination of horror, western, romance, and action!"
—The Gloss Book Club

"[S]killfully blends traditional vampire lore with a fresh and vibrant Latinx perspective..."
—Connect Savannah

"...[P]art historical fiction, part horror novel with vampires and part second-chance love story. It's eerie, romantic and perfectly delicious for a night of frights."
—The Observer

Praise for The Hacienda

"A thing of uncanny, chilling beauty. Hauntings, exorcisms, incantations, forbidden love — The Hacienda transports one to a world where love triumphs over demons."
—The New York Times

"A tale of romance, dread, and supernatural menace."
—Harper's Bazaar

"[A] gothic tale of doomed love and vengeful spirits."
—The Washington Post

"[A] chilling Mexican gothic horror, full of suspense that will have you tethered to each page." 
—NPR

"Looking for supernatural suspense, forbidden love and a history lesson set in the aftermath of the Mexican War of Independence? Pick up The Hacienda."
—Parade

"Don't read this gothic horror right before bedtime, especially if you're prone to nightmares."
—Good Housekeeping

"[A] dazzling debut….Yeah, this one will keep you up at night, muttering 'one last page."
—E! News

"A deliciously haunting novel that slithers into your mind and keeps you dreaming of it."
—Buzzfeed

"After you read and enjoy Mexican Gothic, pick up this beautifully unsettling tale. Set in post-Independence War Mexico, this chilling suspense novel will leave you with chills as you follow the terrifying haunting at Hacienda San Isidro."
—Glamour

"Pretty much the perfect Gothic novel… meaning it reads like a brilliant piece of historical fiction and a, 'Okay, I'm gonna need to sleep with the lights on now,' horror novel."
—Jezebel

"The scary, atmospheric, gorgeous Gothic of my dreams."
—Rachel Hawkins, New York Times bestselling author of The Wife Upstairs

"Gothic terror at its best, layered with tension: class, religious, and sexual. You will be so immersed in its skillful storytelling that the hours will vanish."
—Simone St. James, New York Times bestselling author of The Sun Down Motel

"A haunted history, a gory gothic, a forbidden romance. This book kept me up at night, and it was worth every second of lost sleep."
—Alix E. Harrow, New York Times bestselling author of The Once and Future Witches

"A hypnotic, sinister tale that is equal parts terrifying and luxurious. Cañas's debut is a nightmare lined with velvet."
—Roshani Chokshi, New York Times bestselling author of The Gilded Wolves

"The Hacienda is a perfect gothic and Cañas is not afraid to pull in the horror element. An impressive debut."
—Jayne Ann Krentz, New York Times bestselling author of Lightning in a Mirror

"A haunting gorgeous tale of doomed love, vengeful spirits, and tortured faith that I could not put down."
—S.A. Chakraborty, bestselling author of The Empire of Gold

"Lush, sinister, and darkly romantic. The Hacienda is a haunting and brilliant debut."
—Alexis Henderson, author of The Year of the Witching

"Absolutely enthralling—I read it in one sitting because its vivid prose and spectacular twists and turns made it impossible to put down."
—Genevieve Gornichec, bestselling author of The Witch's Heart

"As romantic as it is terrifying, The Hacienda is a lush, atmospheric read that never pulls any punches. Horror fans, fantasy fans, and romance fans will all find something to love here."
—Hannah Whitten, New York Times bestselling author of For the Wolf