Sunday Pancakes (Hardcover)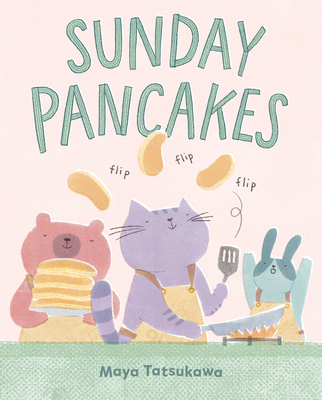 Description
---
This warm, feel-good tale of friends working together to make delicious pancakes is the ultimate comfort food from Geisel Honor creator Maya Tatsukawa

It's Sunday! And for Cat that means . . . pancakes! But Cat is out out of eggs and milk—maybe inviting friends will fix that. Luckily, Rabbit and Bear have the missing ingredients covered, and these friends get to work baking stacks and stacks and STACKS of pancakes! There may be a few spills and oops along the way, but pancakes—and friends—don't have to be perfect to be wonderful. Included in the story is a simple recipe so readers can enjoy making pancakes of their own!
About the Author
---
Maya Tatsukawa is a children's book illustrator and designer residing just outside of Boston. She also wrote and illustrated The Bear in My Family, and illustrated Dandelion Magic, by Darren Farrell.
Praise For…
---
Boston Globe Best Book of 2022 Title

"Modeling creativity and patience, the friends eventually enjoy their pancakes, making the best of mishaps along the way . . . With each page divided into panels, the simple colored cartoons, rendered in a warm palette, exude softness. Japanese culture is incorporated through a few ingredients and household objects, and a pancake recipe is included. A delightful, delectable read." —Kirkus

"With characters who resemble plush toys, a cheery pastel palette, and off-the-cuff-sounding dialogue, Tatsukawa creates a hanging-out-in-the-kitchen mood that embodies the essence of home cooking's joys. The pancakes are conveyed as indeed delicious (the characters make more for dinner), but for readers, they're really just icing on the cake of witnessing characters who make each other feel cozy and welcome. A pancake recipe concludes." —Publishers Weekly

"The art is the star of the show here as Tatsukawa's handmade textures create an overarching softness complemented by a soothing, pastel color palette, and stippling lends the scenes depth and liveliness. This picture book is brimming with mouthwatering, fluffy flapjacks, and adults should be prepared to utilize the recipe at the back of the book after reading it (regardless of the time of day)." —BCCB