Bok's Giant Leap: One Moon Rock's Journey Through Time and Space (Hardcover)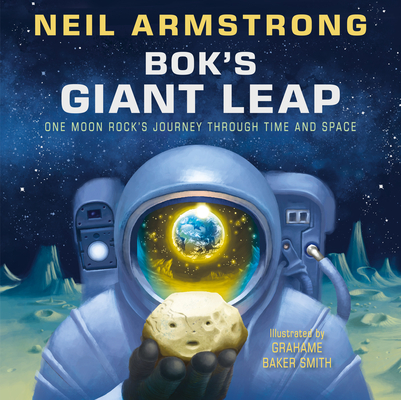 $17.99
Unavailable in store; contact staff@bookmarksnc.org to check price and order availability
Description
---
First man on the moon Neil Armstrong's only children's book is a unique exploration of how the Earth and the Moon came to be.

The entire epic history of the Earth and the Moon is recounted through the observations of one special moon rock named Bok. Geologists say that rocks remember, and Bok certainly does. It recounts how its life began on Earth, until a collision with an asteroid catapults it into orbit during the creation of the Moon.

From the Moon's surface, Bok watches the developing planet change from afar--until a strange creature scoops him up and brings him back to Earth.

When NASA honored Apollo 11 astronaut Neil Armstrong and gave him a piece of moon rock from that mission, Armstrong playfully named the rock Bok in his acceptance speech. Award-winning illustrator Grahame Baker-Smith has created a breathtaking, one-of-a-kind picture book based on that speech, combining fascinating science and history with the grandest human adventure of all.
About the Author
---
Neil Armstrong was an American hero for being the first human to walk on the moon during the historic Apollo 11 mission. His illustrious international career included many special honors, including the Presidential Medal of Freedom. Armstrong passed away in 2012 at the age of 82. This is his only book for children.

Grahame Baker-Smith studied at the Berkshire College of Art and Design and is the author and illustrator of many picture books in his uniquely lyrical digital style. In 2011, his picture book FArTHER won the Kate Greenaway Medal, the most prestigious prize in British illustration.
Praise For…
---
"A small bit of the primordial Earth is blasted into space…and a long time later makes a return journey via Apollo 11…A compelling invitation to take the long view." –Kirkus Reviews

"This exploration of deep time as witnessed by one ancient little moon rock will appeal to budding astronauts, future paleontologists, and burgeoning geologists alike." –School Library Journal

"An appealing STEM read-aloud." -Booklist