Superpowered: Transform Anxiety into Courage, Confidence, and Resilience (Paperback)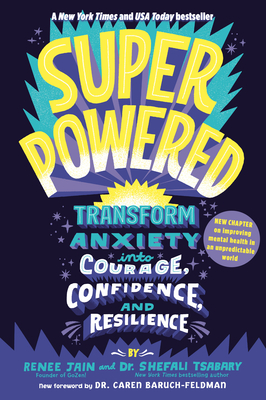 $9.99

Available to order; typically arrives at Bookmarks in 5-10 days
Description
---
This New York Times and USA TODAY bestseller is the perfect tool for children facing new social and emotional challenges in an increasingly disconnected world! This how-to book from two psychology experts--packed with fun graphics and quizzes--will help kids transform stress, worry, and anxiety. Give it to fans of The Confidence Code for Girls and Raina Telgemeier's Guts.

Now more than ever, kids need to feel empowered as they work through anxiety, overwhelm, and uncertainty brought on by the world around them. With its helpful, hands-on suggestions and tips, SUPERPOWERED will be embraced by every kid with insecurities, worries, and anxious thoughts.

Renee Jain (founder of GoZen!) and Dr. Shefali Tsabary (New York Times bestelling author and Oprah contributor) make readers the superheroes of their own stories. They introduce a toolkit of easy-to-understand methods for recognizing anxious behaviors, identifying the root causes of worried thinking, and realizing that strength can be found in reclaiming one's inner superpowers.

With the help of humorous artwork and interactive elements, readers find their P.O.W.E.R. (an acronym that inspires mindfulness and resilience practices) and gain lasting mental strength.
About the Author
---
Renee Jain, MAPP is the founder of child-psychology start-up GoZen! and is recognized as a pioneer in the fields of technology and social and emotional learning. Through her writing, product invention and development, masterclasses for parents, and advocacy for children, she works to build the emotional intelligence of kids. She holds a masters in psychology from the University of Pennsylvania and has two children. Find Renee on Facebook and Instagram @gozenlove, and online at www.gozen.com.

Dr. Shefali Tsabary is a New York Times bestselling author and world-renowned clinical psychologist who received her doctorate from Columbia University. She specializes in the integration of Eastern philosophy and Western psychology, making her an expert in her field. Dr. Shefali is also the author of The Awakened Family: How to Raise Empowered, Resilient, and Conscious Children; Out of Control: Why Disciplining Your Child Doesn't Work and What Will; and The Conscious Parent: Transforming Ourselves, Empowering Our Children. She is raising a teenage daughter. Find Dr. Shefali on Twitter, YouTube, and Facebook @DrShefali, and online at www.drshefali.com.
Praise For…
---
FEATURED ON THE TODAY SHOW!

"A powerful tool to help those who have a hard time understanding their own feelings and worries ... Hand a copy to every counselor and school psychologist in the building." —School Library Journal

"Worksheets and exercises teach readers the basics of many common anxiety management techniques in use today, drawing heavily from behavioral therapies for managing anxiety's cognitive distortions." —Kirkus Reviews