The Year of the Witching (Hardcover)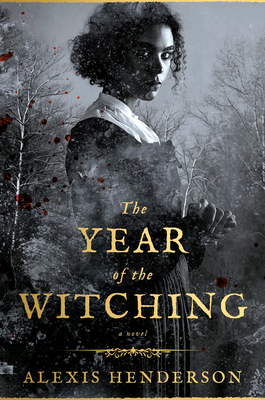 $26.00
Email staff@bookmarksnc.org for price & availability
Staff Reviews
---
I don't know what I was expecting stepping into this book, but it certainly surprised me nonetheless. This world which feels so real, so like something that could be happening just down the road in places where religious cults abound, absolutely terrified me. Yet I'm sure it'll be something that a lot of young women in religiously strict families might need. Our main character is the daughter of a woman named a witch who supposedly betrayed her community and everyone expects the same of her. Yet no matter what they do, no matter what she goes through, she remains faithful, because she understands in the end, you can still have faith in your god while understanding the religion your community follows is in the wrong. And you can choose to step away from them, or you can gather like minded individuals and fight for it to be better. So while this book is incredibly dark and bloody and many of the opposing characters are terrible and deserve no forgiveness, there's hope. There's light, and there is forgiveness. I think this is an incredibly brave and enlightening book and I'm very excited to see where the author goes next!
— Cat
Description
---
A young woman living in a rigid, puritanical society discovers dark powers within herself in this stunning, feminist fantasy debut.
 
In the lands of Bethel, where the Prophet's word is law, Immanuelle Moore's very existence is blasphemy. Her mother's union with an outsider of a different race cast her once-proud family into disgrace, so Immanuelle does her best to worship the Father, follow Holy Protocol, and lead a life of submission, devotion, and absolute conformity, like all the other women in the settlement.

But a mishap lures her into the forbidden Darkwood surrounding Bethel, where the first prophet once chased and killed four powerful witches. Their spirits are still lurking there, and they bestow a gift on Immanuelle: the journal of her dead mother, who Immanuelle is shocked to learn once sought sanctuary in the wood.

Fascinated by the secrets in the diary, Immanuelle finds herself struggling to understand how her mother could have consorted with the witches. But when she begins to learn grim truths about the Church and its history, she realizes the true threat to Bethel is its own darkness. And she starts to understand that if Bethel is to change, it must begin with her.
About the Author
---
Alexis Henderson is a speculative fiction writer with a penchant for dark fantasy, witchcraft, and cosmic horror. She grew up in one of America's most haunted cities, Savannah, Georgia, which instilled in her a life-long love of ghost stories. Currently, Alexis resides in Columbus, Ohio, where she's learning to cope with the cold.
Praise For…
---
"This is a beautiful, powerful, important book, and I hugely recommend it."—Seanan McGuire, New York Times bestselling author of The Unkindest Tide
  
 "The Year of the Witching is a dark wood ready to swallow you whole with its tense stakes and beguiling prose. Henderson takes witchcraft to its very depths, unraveling the horrific nightmares of bone-deep ideology and devastating oppression." — Dhonielle Clayton, New York Times bestselling author of The Belles series
 
"A haunting, unique read I couldn't put down—a story that cuts to the heart."—Tamora Pierce, #1 New York Times bestselling author of Tempests and Slaughter

"The Year of the Witching tells a universal, timeless story about women's power." – O, The Oprah Magazine

"Has a classic setup but updates the olde puritanical tale to deal with issues of racism and sexism."--The Washington Post

"Unique and haunting." –Ms. Magazine 

"The Year of the Witching is a very, very good book. It's unsettling and horrifying, beautiful and incisive, and ultimately, radiantly triumphant… I was torn between wanting to tear through the chapters as fast as possible to see how things resolved and savoring every sentence." – Smart Bitches, Trashy Books

"The Year of the Witching is Alexis Henderson's debut novel, but you'd never know it.... The story is enchanting, enticing, enthralling, enigmatic."–Tor.com

"A thrillingly brisk and bracing tale of magic and power, I loved this book. It takes the best tropes of horror and witchcraft and gives them a refreshingly feminist twist."– S.A. Chakraborty, National bestselling author of The Daevabad Trilogy
 
"A dark, dramatic tale of oppression and rebellion, ideology and morality, with a complicated, appealing protagonist caught in a Handmaid's Tale nightmare."- Louisa Morgan, Author of The Age of Witches
 
"A masterfully eerie, feminist story that binds itself to the reader's mind and won't let go." - Shea Ernshaw, New York Times bestselling author of The Wicked Deep
 
 "Creepy, compelling, and compulsively readable…blends the terror of the supernatural with the all-too-recognizable human evils of power and dogma." — Fonda Lee, Award-winning author of the Green Bone Saga 
 
"Bone-chilling and breathtakingly beautiful…storytelling at its finest." – Rena Barron, author of Kingdom of Souls
 
"A brutal tale of religion, witchcraft, & patriarchy. The perfect read for fans of The Handmaid's Tale." – amanda lovelace, National bestselling author of the princess saves herself in this one
 
"This book will haunt your dreams."—Christina Henry, National Bestselling author of Alice and The Ghost Tree