Bring Your Baggage and Don't Pack Light: Essays (Paperback)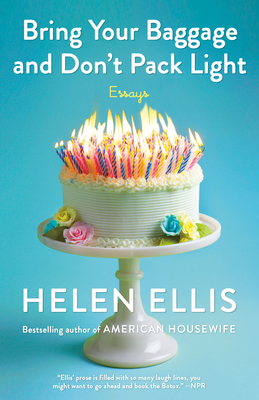 Description
---
The bestselling author of American Housewife and Southern Lady Code returns with an "inspiring, hilarious, straight-to-the-point" (Entertainment Weekly) collection of essays on friendship among grown-ass women.

"Ellis' prose is filled with so many laugh lines, you might want to go ahead and book the Botox." —NPR

When Helen Ellis and her lifelong friends arrive for a reunion on the Redneck Riviera, they unpack more than their suitcases: stories of husbands and kids, lost parents and lost jobs, powdered onion dip and photographs you have to hold by the edges, dirty jokes and sunscreen with SPF higher than they hair-sprayed their bangs senior year, and a bad mammogram. It's a diagnosis that scares them, but could never break their bond. Because women pushing fifty won't be pushed around.

In these twelve gloriously comic and moving essays, Helen Ellis dishes on married middle-age sex, sobs with a theater full of women as a psychic exorcises their sorrows, gets twenty shots of stomach bile to the neck to get rid of her double chin, and gathers up the courage to ask, "Are you there, Menopause? It's Me, Helen."

A book that reads like the best cocktail party of your life, Bring Your Baggage and Don't Pack Light is alive with the sensational humor and ferocious love for her friends that won Helen Ellis legions of fans. This book has a raw vulnerability and an emotional generosity that takes this acclaimed author to a whole new level of accomplishment.
About the Author
---
HELEN ELLIS is the author of Bring Your Baggage and Don't Pack Light, Southern Lady Code, American Housewife and Eating the Cheshire Cat. Raised in Alabama, she lives with her husband in New York City. She is a poker player and a plant lady. You can find her on Twitter @WhatIDoAllDay and Instagram @HelenEllisAuthor.
Praise For…
---
SOUTHERN BOOK AWARD FINALIST • A New York Post Best New Book to Read • A Garden and Gun Best Book of the Year • A New York Times New and Noteworthy Book • A PureWow Best Beach Read • A Buzzfeed Book to Read this Summer • A People Best Book of the Week

"Sharply funny… Ellis has clearly found her stride — or, in her case, her strut. The writer who so memorably opened American Housewife with a Beyoncé-inspired 'stallion walk to the toaster' is indeed noticeably unbridled and self-assured in this collection… The spirit of Nora Ephron… hovers over this book… Ellis' prose is filled with so many laugh lines, you might want to go ahead and book the Botox… Ellis is a hoot. She's also a force… She has come to own the power of her personality — and her work."
—Heller McAlpin, NPR

"Despite how often I type the letters 'LOL,' it actually takes a lot for me to laugh out loud. But I found myself doing so at least once a chapter while reading the Alabama native Helen Ellis's new essay collection, Bring Your Baggage and Don't Pack Light... Hilarious."
—Amanda Heckert, Garden and Gun

"As with everything written by the Alabama-born novelist who gave us Southern Lady Code, this collection of twelve essays is equal parts irreverent and poignant—a mirthful toast to friendship at middle age."
—Southern Living

"Helen Ellis has done it again. And by it, we mean she's pulled together her thoughts on life's disparate moments and produced an inspiring, hilarious, straight-to-the-point essay collection."
—Entertainment Weekly

"Ellis is a humorist, a writer with a sharp eye for finding the funny in any situation... Secrets are exactly what make Ellis's essay collection fun. She doesn't hold back... A little bit naughty, but also self-aware... She writes without fear of exposing her own vulnerabilities, of putting on display for everyone to see what many people would want to hide, and in that willingness, what emerges feels real and genuine."
—Southern Review of Books

"You gotta love a middle-aged gal who enjoys the 'good ole-boy adonises' at a water park in Georgia, plays professional poker in her pearls and speculates with her chagrined husband about her friends' sex lives ('Those two have costumes'). Ellis is as original as she is hilarious, and in these laugh-out-loud essays she unleashes her no-holds-barred humor while sneaking in sharp and generous insights."
—People

"An uproarious joyride, best enjoyed with a souvenir cup of white wine. Her tales of travels and tribulations with her middle-aged crew are both deep and deeply funny, seeded with bumper-sticker lines like, 'Instead of a chip on my shoulder, I keep a Nestlé morsel under my brastrap.'"
—Martha Stewart Living

"Ellis, whose uproarious essays call to mind the warm, brassy and amused tone of a latter-day Erma Bombeck, here celebrates middle-aged female friendship."
—The New York Times

"Masterful wit...Helen Ellis shares twelve humorous yet poignant essays chronicling issues faced by her friends and herself as they wade into their fifties. During a reunion on 'the Redneck Riviera,' the women dish about middle-aged married sex, family, careers, double chins, mammograms, poker, and more. You'll laugh -- and, perhaps, cry -- along with them in this slim collection."
—Zibby Owens, Good Morning America

"What do you get when you cross an Alabama debutante with an Upper East Side socialite and a world class poker player? You get Helen Ellis' s new collection of essays, delivering home truths with an iron fist wrapped in a cashmere glove. Whether she's writing about the outrageousness of 'her kind of people' or why she needs to take the Greyhound for her trips to Atlantic City, you'll chuckle along on every page."
—Emily Crowe, Buzzfeed

"Imagine your funniest friend—the one who can take make you laugh with little more than a sideways glance. The one who can make light of even the direst of situations. Now imagine that friend sitting you down and regaling you with twelve of her trademark wonderful stories... Conversational, witty and often poignant, the collection is one you'll blow through while ear-marking pages to send to your group chat with your friends... Above all else, Ellis is an absolute joy to read."
—Sarah Stiefvater, PureWow

"This collection is sneaky good. At first reading, it feels like a trifle, a treat. But once you've finished, you realize how important its messages are: Friends are how we get through a punishing world; it is absolutely imperative to fully embrace who you are; never take yourself too seriously; all we can do is take the next best step for us."
—The Bitter Southerner

"Whether she's playing poker or second fiddle, Ellis proves again she is in it to win it, with this essay collection... Unpretentious and uplifting, Ellis's writing on friendship reads more like a conversation you'd have with your best friend than an essay by a stranger... Readers looking for a new literary pal who's classy enough to wear pearls at the poker table, and brave enough to visit a crowded water park post-menopause, need look no further. Recommend to fans of Nora Ephron and Annabelle Gurwitch."
—Library Journal, starred

"The author of American Housewife and Southern Lady Code cuts loose with uproarious observations on friendship, middle age, and her own life... This smart, sassy, page-turning collection will appeal to fans of the author's work as well as anyone who enjoys the quick-witted jocularity of a singular Southern woman who refuses to let anything—or anyone—get her down... Darkly hilarious."
—Kirkus

"With the ongoing pandemic, many are in need of a good laugh. Thankfully, Ellis' essays deliver hilarity on every page, providing the perfect way to get one's socially distanced jollies. A seasoned Manhattanite by way of Alabama, Ellis entertains with a spicy blend of good ol'-gal snark and seasoned urban savvy, disarming folks with her tongue-in-cheek Southern bellecharm and shocking the unsuspecting with her flinty, no-nonsense persona."
—Booklist

"Ellis... shines in this collection of essays that lovingly underscores the importance of having a circle of close friends... Charming and frank life lessons ensue... Ellis balances intimacy, humor, and directness... The result is a candid, funny reminder that one need not take life too seriously."
—Publishers Weekly