The American Heritage Student Grammar Dictionary (Paperback)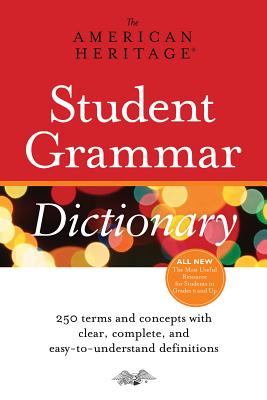 Description
---
The all-new American Heritage® Student Grammar Dictionary presents 250 of the most useful terms and concepts of grammar, clearly and precisely defined for students in grades six and up. This resource goes well beyond grammar basics to cover more advanced concepts, making it useful for students as they progress from middle school to high school.
Each entry includes engaging and varied example sentences showing how grammatical concepts play out in English writing. More than 70 charming cartoon illustrations enliven the text and supplement the example sentences with amusing exchanges between recurring characters. Most entries contain special features, including tips for dictionary use, remarks on the distinction between formal and colloquial English, and cautions about common errors. Similar and related terms are cross-referenced to each other, so that no entry stands alone but each fits into the larger pattern of English grammar.
This easy-to-use dictionary is a unique, accessible, and entertaining resource for a subject that is a perennial anxiety provoker for students as well as their parents.

About the Author
---
The Editors of the American Heritage Dictionaries are a team of professional lexicographers with advanced degrees in various scholarly fields. The editors familiarize themselves with the vocabulary in specific subject areas, collect materials on new developments and usage, and work with expert consultants to ensure that the content of our publications is as accurate and as up-to-date as possible.