Sealed with a Secret: A Wish Novel (Paperback)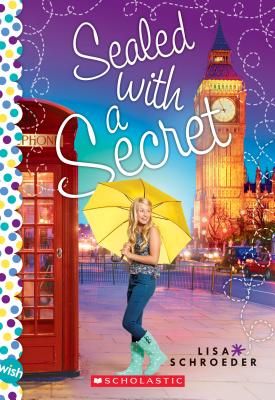 $6.99
Email staff@bookmarksnc.org for price & availability
Description
---
From the author of My Secret Guide to Paris comes a middle-grade novel about sisters, secrets, and everyday magic -- all set in the enchanting streets of London! Now part of WISH in paperback!
When Phoebe finds a beautiful antique at a flea market, she's not sure whether it's as valuable as it looks. But inside she discovers something truly amazing a letter written during World War II, from a young girl to her sister who's been evacuated from London. The letter includes a "spell" for bringing people closer together: a list of clues leading all through the city. Each stop along the way adds up to magic.

Phoebe is stunned. Not only has she found a priceless piece of history, the letter is exactly what she needs -- she's also separated from her sister, though not by distance. Alice leaves for university soon, but in the meantime, she wants nothing to do with Phoebe. They used to be so close. Now that Phoebe has this magical list, maybe she can fix everything! That is, unless she accidentally makes everything worse instead...

From the author of My Secret Guide to Paris comes an unforgettable trip through London, with secret treasures around every corner!
About the Author
---
Lisa Schroeder is the author of over a dozen books for young readers, including My Secret Guide to Paris, Sealed with a Secret, Keys to the City, the Charmed Life series, and the YA novels All We Have Is Now and The Bridge from Me to You. She loves cookies, flowers, family hikes, books, movies that make her laugh and cry, and sunshine. Living in Oregon, she doesn't get nearly enough sunshine, but the hikes are amazing. Learn more at lisaschroederbooks.com and on Twitter @lisa_schroeder.
Praise For…
---
Praise for Sealed with a Secret:
"...a quick, charming read. The Londonsetting and focus on two sisters make this ideal for readers who are a bit above the fluffy Cupcake Diariesseries and its contemporaries." -- Booklist

"...the pacing and setting development should satisfy young fans of Wendy Mass's "Willow Falls" series and other magic-laced middle grade romps." -- School Library Journal