Creature Features: Twenty-Five Animals Explain Why They Look the Way They Do (Hardcover)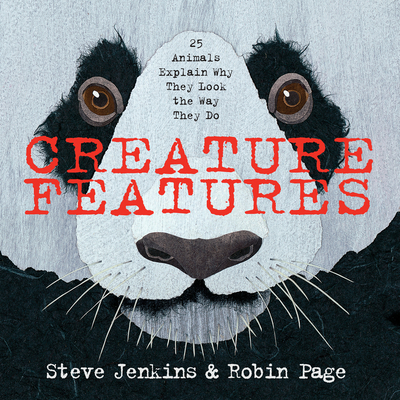 Description
---
Dear axolotl: Why do you have feathers growing out of your head? Axolotl: They aren't feathers—they're gills! They let me breathe underwater.
Let's face it. Even as babies, we humans pay close attention to faces. Observing another person's features and expressions tells us whether they are happy, angry, excited, or sad. And when we look at an animal, it's hard not to imagine that its face is communicating human feelings. This isn't true, of course. Squinty eyes, an upturned mouth, or another odd expression is probably there because, in some way, it helps that animal survive.      Packed with many cool facts and visuals on where certain animals live and what they eat, this book captures twenty-five humorous—and very true—explanations of why animals look the way they do in order to exist in this world.
About the Author
---
Steve Jenkins has written and illustrated many nonfiction picture books for young readers, including the Caldecott Honor–winning What Do You Do with a Tail Like This? His books have been called stunning, eye-popping, inventive, gorgeous, masterful, extraordinary, playful, irresistible, compelling, engaging, accessible, glorious, and informative. He lives in Boulder, Colorado with his wife and frequent collaborator, Robin Page.
www.stevejenkinsbooks.com
Robin Page
lives in Boulder, Colorado, with her husband and collaborator, Steve Jenkins. She has worked on numerous bestselling and award winning titles, including Caldecott Honoree
What Do You Do With a Tail Like This?
. Along with writing and illustrating children's books, Steve and Robin run a graphic design studio.
Praise For…
---
"From a skilled team, another intriguing invitation to explore the animal world."
—Kirkus

"It's a splendid introduction and a memorable read-aloud for young children."
—Booklist

* "Loaded with nuggets of information and layered in humor, this is a winning picture book that is sure to inform as well as entertain."
—School Library Journal, starred review

* "Jenkins's torn-paper creations emphasize the idea of interspecies dialogue—readers stare face to face with the animals, who happily divulge what makes them special."
—Publishers Weekly, starred review

"The language of the questions is funny, varied, and irreverent, and the answers are as personable as they are compactly informative...Though the text is accessible for reading alone, the Q&A format is a natural for a lively and unusual readaloud—funny voices optional but recommended."
—Bulletin