Burn Our Bodies Down (Hardcover)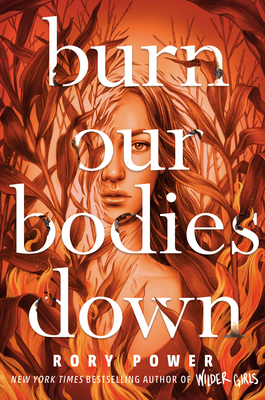 Staff Reviews
---
Powers has an innate ability to make you question every single sentence she writes. Forces you to stop every chapter and look down at your own body and wonder if these things to, might happen to you. Like the words are the infection, and reading them is how you catch it. It crawls under your skin and hides until later when you stop in the middle of some activity and being to think about it again, horrified. Burn Our Bodies Down affects body and mind, tearing down the barriers of family knowing best, and shoving you firmly into that terrifying middle ground. Where you realize that your parents aren't really all knowing. That you have to save yourself, and heal yourself, and decide if they are worth forgiving. So many books are terrified to talk about mothers and what they do to their daughters, and how that trickles down the family tree. Burn Our Bodies down is unflinching, and unwilling to let you look away from the truth. Yet, it also holds the promise of tomorrow, the promise of what working together might bring. It was utterly beautiful, and horrifying, and dredged up so many feelings as a daughter who has a very similar relationship with my own mother. Powers truly has a gift for a special kind of horror.
— Cat
Description
---
"[A] deliriously creepy tale...that'll keep your nightmares up at night." --Melissa Albert, New York Times bestselling author of The Hazel Wood

From the author of the New York Times bestseller Wilder Girls comes a feverishly twisty thriller about a girl whose past has always been a mystery--until she decides to return to her mother's hometown . . . where history has a tendency to repeat itself.

Ever since Margot was born, it's been just her and her mother, struggling to get along. But that's not enough for Margot. She wants family. She wants a past. And she may have just found the answer: A photograph, pointing her to a town called Phalene. Only, when Margot gets there, it's not what she bargained for.

As soon as they see her face, everyone in town knows who Margot belongs to. It's unmistakable--she's a Nielsen. And when a mysterious girl who could be Margot's twin is pulled from a fire, Margot realizes that her mother left Phalene for a reason. But was it to hide her past? Or was it to protect Margot from what's still there?

The only thing Margot knows for sure is there's poison in their family tree, and their roots are dug so deeply into Phalene that now that she's there, she might never escape.

Praise for Wilder Girls:
4 STARRED REVIEWS!

"Fresh and horrible and beautiful....readers will be consumed and altered by Wilder Girls."-NPR

"This thrilling saga...is sure to be one of the season's most talked-about books, in any genre."--EW

"The perfect kind of story for our current era."--Hypable

"Your new favorite book."--Cosmopolitan
About the Author
---
Rory Power grew up in Boston, received her undergraduate degree at Middlebury College, and went on to earn an MA in prose fiction from the University of East Anglia. She lives in Massachusetts. She is the New York Times bestselling author of Wilder Girls and Burn Our Bodies Down. To learn more about Rory, go to itsrorypower.com and follow @itsrorypower on Twitter and Instagram.
Praise For…
---
Praise for Burn Our Bodies Down:

"Wow, this was amazing. Rory Power does it again! Burn Our Bodies Down is a masterpiece: an incredible and unnerving mystery that will creep up on you, twisty and labyrinthine, like the eerie cornfields of its setting." —Holly Jackson, New York Times bestselling author of A Good Girl's Guide to Murder  

"With this bloodcurdling blend of agriculture, advanced genetics, and interpersonal turmoil, Rory Power reminds us that seemingly disparate things in life can come together in horrifying ways. I will keep a candle lit after this one." —Nic Stone, New York Times bestselling author of Dear Martin

"Rory Power's prose hits like a lightning strike in this deliriously creepy tale, the kind of slow-crawling horror that'll keep your nightmares up at night." —Melissa Albert, New York Times bestselling author of The Hazel Wood

★ "Gritty and strange, this sophomore novel is utterly compelling." —Booklist, starred review 

★ "Creates a vivid world with a gothic horror–like setting. . . . A riveting, often frightening read." —Publishers Weekly, starred review

★ "Strong, suspenseful writing and pitch-perfect touches of horror." —Shelf Awareness, starred review

"A creepy mystery recommended for readers who enjoy character-driven stories with elements of horror." —SLJ

"Burn Our Bodies Down is a tightly woven tale . . . that will leave readers unsettled in the best way." —BookPage

Praise for Wilder Girls:
 
"Take Annihilation, add a dash of Contagion, set it at an all-girls' academy, and you'll arrive at Rory Power's occasionally shocking and always gripping Wilder Girls." —Refinery29 

"Everything about this thrilling, unnerving debut will make you want to immediately read it." —Paste
 
★ "Power's evocative, haunting, and occasionally gruesome debut will challenge readers to ignore its bewitching presence." —Booklist, starred review

★ "Part survival thriller, part post-apocalyptic romance, and part ecocritical feminist manifesto, a staggering gut punch of a book." —Kirkus Reviews, starred review

★ "An ode to empowering women and a testament to the strength of female bonds." —Shelf Awareness, starred review

★ "Electric prose, compelling relationships, and visceral horror illuminate Power's incisive debut." —Publishers Weekly, starred review

"Wilder Girls is so sharp and packs so much emotion in such wise ways. I'm convinced we're about to witness the emergence of a major new literary star." —Jeff VanderMeer, author of the New York Times bestseller Annihilation

"Wilder Girls is the bold, imaginative, emotionally wrenching horror novel of my dreams—one that celebrates the resilience of girls and the earthshaking power of their friendships. An eerie, unforgettable triumph." —Claire Legrand, New York Times bestselling author of Furyborn

"A nightmarish survival story that's as much literary fiction as it is young adult. . . . I couldn't look away." —Casey McQuiston, New York Times bestselling author of Red, White, and Royal Blue