Make a Move, Sunny Park! (Hardcover)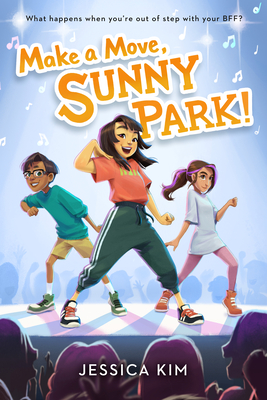 Description
---
From the author of Stand Up, Yumi Chung! comes a funny and utterly charming novel about friends—how to make them, how to let go of them, and how to be your own BFF.

This is the story of Sunny Park, a seventh-grade student at Ranchito Mesa Middle who loves the K-pop band Supreme Beat, hanging out with her cool grandma, dancing when no one is watching, snacking on shrimp chips, and being there for Bailey, her best friend since third grade. When Bailey decides that she and Sunny should audition for the school dance team in a ploy to parent-trap Bailey's divorced mom and dad, Sunny agrees even though the thought of performing in public makes her pits sweat. After all, she'd do anything for Bailey. In a twist of fate, Sunny makes the team and Bailey doesn't, and when Sunny reluctantly joins, it's the start of a painful and drawn-out parting of ways for the two girls. As Sunny takes her first steps out from behind her friend's shadow, she'll have to figure out who she wants to be when she's in the spotlight—and who she wants dancing alongside her.
About the Author
---
Jessica Kim writes about Asian American girls finding their way in the world. Before she was an author, Jessica studied education at UC Berkeley and spent ten years teaching third, fourth, and fifth grades in public schools. She now lives in Southern California with her family. Learn more about Jessica at JessKimWrites.com.
Praise For…
---
Praise for Make a Move, Sunny Park! by Jessica Kim:

★ "Kim does a stellar job of portraying different types of friendships, illustrating how healthy and unhealthy ones can differ and creating anauthentic road map for tweens who are navigating the social complexities of middle school... Make a move on this book—its heart will cheer your soul."
—Kirkus Reviews, starred review

"With unmitigated and endearing honesty, Kim (Stand Up, Yumi Chung!) proffers myriad interpretations of friendship and what it means to be a true friend." 
—Publishers Weekly

Praise for Stand Up, Yumi Chung! by Jessica Kim:

★"With wonderful supporting characters, strong pacing, and entertaining comedy bits, debut author Kim has woven a pop song of immigrant struggle colliding with comedy and Korean barbecue."
—Kirkus Reviews, starred review

★"Kim has taught school, and it shows, both with the spot-on dialogue and the up-to-date social media references… This will certainly remind readers of Kelly Yang's Front Desk (2018)."
—Booklist, starred review

★"A must-read."
—School Library Connection, starred review