A is for Oboe: The Orchestra's Alphabet (Hardcover)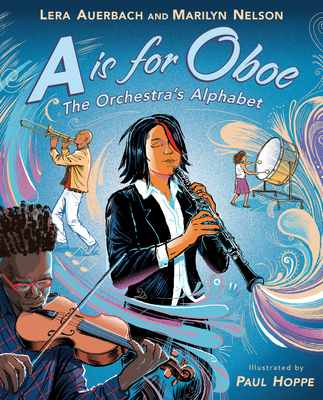 $17.99

Available to order; typically arrives at Bookmarks in 5-10 days
Description
---
This deeply imaginative and entertaining poetry collection details the pleasures of the orchestra, from strong-willed A to satisfied Z.

Two widely acclaimed poets--one a composer and classical pianist as well--have come together to create this extraordinary portrait of the orchestra in all of its richness and fascination, using the structure of the alphabet in a way that's entirely new and delightful. A is for the first note you hear as you take your seat in the concert hall, played by the headstrong oboe. B is for the bassoon, "the orchestra's jester, complaining impatiently through his nose." And C is for the conductor, "like the captain on the bridge of a great ship, navigating the composer's musical charts."

Onward the text goes, soaring in reverie and making thought-provoking observations while not taking itself too seriously--illuminating all the various details that flow together to create the nourishing experience of playing or listening to music.
About the Author
---
Lera Auerbach is a poet, visual artist, composer, and concert pianist. Born in Chelyabinsk, Russia, she defected to the U.S. at the age of seventeen, and began studying in New York. She holds degrees in composition from Juilliard and a piano degree from Hanover University in Germany. She has composed numerous works for opera, ballet, and orchestra that have been performed throughout the world, including recent performances at New York's Lincoln Center, Washington's Kennedy Center, and the San Francisco Ballet. Her first English-language poetry collection, Excess of Being, was published in 2015.

Marilyn Nelson is a three-time National Book Award Finalist, has won a Newbery Honor, a Printz Honor and several Coretta Scott King Honors, and has received several prestigious poetry awards, including the Poets' Prize and the Robert Frost Medal. She has recently been a judge of poetry applicants at the National Endowment for the Arts and Yaddo, and has received three honorary doctorates.

Paul Hoppe was born in Poland, raised in Germany, and now lives in Brooklyn, New York, where he works as an illustrator. He has written and/or illustrated twelve children's books, and his illustrations have appeared in many journals, including the New Yorker, Wall Street Journal, and the New York Times. He teaches at the School of Visual Arts in New York City, and creates his artwork in a studio at the historic Pencil Factory in Greenpoint, Brooklyn.
Praise For…
---
Praise for A is for Oboe

★ "With stunning poetry and vivid illustrations, this volume reimagines what an orchestra is, all while delivering a lesson on how to listen. There's energy and movement in the pictures and poems, organized into riffs on each letter, from A to Z, in imitation of music . . . Putting aside the artistry, this book also serves as an introduction to musical concepts, including everything from tempo and rests to notation and phrasing. It's sure to inspire young readers to make music and approach it in fresh ways." —Booklist, starred review

★ "Combining the talents of composer Auerbach and poet Nelson with the illustrations of Hoppe, this collection of poems is a lyrical and colorful introduction to the orchestra. . . . This fine overview of the orchestra is a great fit for all collections, especially school libraries, where music teachers could use this resource for instruction." —School Library Journal, starred review