The Editor (Hardcover)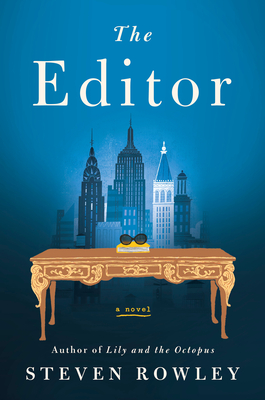 Staff Reviews
---
THE EDITOR opens with a nervous meeting between debut novelist James Smale and a potential editor who turns out to be none other than Jacqueline Kennedy Onassis. Rowley perfectly captures the charm and grace of this American icon while portraying her in the role of devoted editor completely invested in helping her author find his true story. In turn, Smale's journey to confront his past and repair his relationship with his mother resonates on a personal level with Onassis's most personal role as a mother.
This is the first book in a very long time that kept me reading far past my bedtime! Rowley perfectly aligns these two characters' stories, creating a heartwarming story perfect for readers who appreciate a powerful family story with a touch of history and intrigue.
— Beth Buss
April 2019 Indie Next List
---
"Steven Rowley's new novel is exactly the balm I needed in today's climate. Focusing on a young writer who discovers that his editor is none other than Jackie Kennedy Onassis, the book explores both romantic and familial relationships in a humorous and touching manner. Although the writing is wickedly barbed and the zingers fly at the speed of a 1940s rom-com, The Editor is so much more. There is real heart in the writing as well as real love between the characters. It's a true delight and the kind of book people who loved Eleanor Oliphant Is Completely Fine or Less will truly enjoy. Just be prepared with a box of tissues and your favorite cocktail (Jackie would suggest daiquiris)."
— William Carl, Wellesley Books, Wellesley, MA
Description
---
From the bestselling author of Lily and the Octopus comes a novel about a struggling writer who gets his big break, with a little help from the most famous woman in America.

After years of trying to make it as a writer in 1990s New York City, James Smale finally sells his novel to an editor at a major publishing house: none other than Jacqueline Kennedy Onassis. Jackie--or Mrs. Onassis, as she's known in the office--has fallen in love with James's candidly autobiographical novel, one that exposes his own dysfunctional family. But when the book's forthcoming publication threatens to unravel already fragile relationships, both within his family and with his partner, James finds that he can't bring himself to finish the manuscript.

Jackie and James develop an unexpected friendship, and she pushes him to write an authentic ending, encouraging him to head home to confront the truth about his relationship with his mother. Then a long-held family secret is revealed, and he realizes his editor may have had a larger plan that goes beyond the page...

From the bestselling author of Lily and the Octopus comes a funny, poignant, and highly original novel about an author whose relationship with his very famous book editor will change him forever--both as a writer and a son.
About the Author
---
Steven Rowley is the bestselling author of Lily and the Octopus, which has been translated into nineteen languages. He has worked as a freelance writer, newspaper columnist, and screenwriter. Originally from Portland, Maine, Rowley is a graduate of Emerson College. He currently resides in Los Angeles.
Praise For…
---
One of:
NPR's Favorite Books of 2019 
Esquire's "Best Books of 2019 (So Far)"
Southern Living's "25 Beach Reads Perfect for Summer"
PopSugar's "Buzzy Books to Read This Spring"
Town & Country's "Must-Read Books of Spring 2019"
Cosmopolitan's "13 Best Books Coming Out in April"

"The editor makes James a better writer, and The Editor will make you want to be a better son."—NPR 

"Filled with whimsy and warmth, the Lily and the Octopus author's second novel centers on the complex relationship between a fledgling writer and his fabulous editor, the latter of whom becomes a mentor, friend, and maternal figure. Oh, and she happens to be Jacqueline Kennedy Onassis, but that's Mrs. Onassis to you."—O, The Oprah Magazine

 "Steven Rowley is the best-selling author of Lily and the Octopus, and he's honestly outdone himself with The Editor."—Cosmopolitan 

"[A] delightful slice of historical fiction."—Entertainment Weekly ("Must List")

"A sweet and charming novel, perfect for fans of Jackie O and Rowley's first novel, Lily and the Octopus, alike."—PopSugar

"[A] sharp, funny sophomore novel."—Town & Country 

"Witty and heartwarming."—InStyle 

"A journey of self-discovery...Ultimately a story not about celebrity but about family and forgiveness."—TIME 

"Woven into the turbulent queer community of early 90s New York, The Editor touches on mother/son relationships, what it means to be a family, and the tension of unresolved secrets."—them.

"Set in a world before emails and internet, when sons called their mothers collect and typewriters were still the tools of the trade, this is an absolutely delightful read."—Edina Magazine 
 
"The Editor...sweetly evokes a mature Jacqueline Kennedy Onassis. In 1990s New York, James Smale is an obscure first-time novelist, but his editor is world-famous. In this delicately observed tale the steely Jackie becomes not just the midwife of the angsty gay Smale's manuscript, but of a wider reconciliation."—Sunday Times (UK) 

"[A] funny, poignant novel about a young writer and his fabulous editor, Jacqueline Kennedy Onassis."—Orange County Register

"Mix yourself a daiquiri, Jackie's drink of choice, to accompany you on this one." –Baltimore Style

"Poignant, witty, funny…This story stayed with me." —FIRST for Women

"The resonance of Rowley's originality and sensitivity shines on every page. He has written a refreshing, superbly crafted novel of hard-won self-discovery filled with big, well-paced scenes and a pitch-perfect blend of humor and compassion that will charm and fully engage readers."—Shelf Awareness

"A poignant tale...Rowley deliberately mines the sentiment of the mother/son bond, but skillfully saves it from sentimentality; this is a winning dissection of family, forgiveness, and fame."—Publishers Weekly (starred review)

"While diving deep into questions of identity, loyalty, and absolution within the bonds of family, Rowley, author of the beloved Lily and the Octopus, soars to satisfying heights in this deeply sensitive depiction of the symbiotic relationships at the heart of every good professional, and personal, partnership."—Booklist

"Steven Rowley has hit a home run. What a stunning portrayal of family this is. At turns equally laugh-out-loud funny and searingly poignant, Rowley has created a truly unforgettable story of a son trying to understand his mother. The Editor is one of those exceptional stories that is both a joy to read on every page and also deeply profound and significant. It took my breath away."—Taylor Jenkins Reid, author of Daisy Jones and the Six 

"Told with warmth and humor, Steven Rowley's charming second novel tells the story of a mother-son reconciliation, facilitated by a most unlikely fairy godmother. The Editor offers a delightful fictional glimpse of an iconic American family—but it is, at heart, a tribute to every family whose last name isn't Kennedy."—Chloe Benjamin, author of The Immortalists

"The Editor is an absolute triumph! By page three, I announced aloud, 'I LOVE THIS BOOK.' Rowley is a master of creating characters you fall in love with and never want to leave."—Julie Klam, author of The Stars In Our Eyes

"The Editor will have you weeping tears of joy when it's not quietly breaking your heart. It's a study of mothers and sons, unlikely friendships, and how we go about collecting the scattered pieces of our pasts. It takes guts, humor, and immense talent to write a book like this. Lucky for us, Rowley has plenty of all three."—Grant Ginder, author of The People We Hate at the Wedding

"What fun! This droll and wonderfully poignant book gives you full access to one of the most fascinating figures of the twentieth century. A delight."—Henry Alford, author of And Then We Danced

"This funny, warm, and thought-provoking novel is the next best thing to having Jackie O. around to make us see how the larger-than-life characters in our own histories—our mothers—are as human, fallible, and as prone to heartbreak as us kids. Keep tissues handy. I had to use a bedsheet."—Julia Claiborne Johnson, author of Be Frank With Me

"The Editor is an absolute delight from start to finish. Steven Rowley writes such evocative, compelling characters, and his ability to buck the cliche in favor of true nuanced emotion is a gift. Rowley's portrayal of the unconventional relationship between a charmingly uncertain James Smale and the one and only Mrs. Onassis made me laugh, nod and eventually, cry. I adored this book!"—Sally Hepworth, author of The Mother-in-Law