Dear Ijeawele, or A Feminist Manifesto in Fifteen Suggestions (Paperback)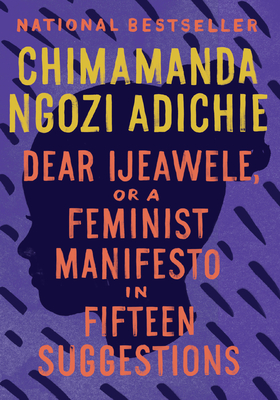 Staff Reviews
---
"Teach her to question language. . . . Teach her to question our culture's selective use of biology as 'reasons' for social norms." These are 2 of the 15 suggestions Adichie gives her friend, Ijeawele, who asked for advice about how to raise her own daughter to be a feminist. Adichie found this task lofty, so her answer became this book-length essay. In her accessible yet uncompromising style and tone, Adichie smartly offers day-to-day advice for how parents can teach their daughters to question beliefs about gender that are taken for granted as fact. Having explained why everyone should be a feminist in We Should All Be Feminists, Adichie goes a step further, imparting the importance of raising daughters from the beginning to see themselves as complete people not in the shadow of boys. Just as everyone should be a feminist, I think this book is also for everyone. The well-being of future generations is too important for us not to be paying attention.
— Chad
Description
---
The award-winning, bestselling author of We Should All Be Feminists and Americanah gives us this powerful statement about feminism today—written as a letter to a friend.

A few years ago, Chimamanda Ngozi Adichie received a letter from a childhood friend, a new mother who wanted to know how to raise her baby girl to be a feminist. Dear Ijeawele is Adichie's letter of response: fifteen invaluable suggestions—direct, wryly funny, and perceptive—for how to empower a daughter to become a strong, independent woman. Filled with compassionate guidance and advice, it gets right to the heart of sexual politics in the twenty-first century, and starts a new and urgently needed conversation about what it really means to be a woman today.

A Skimm Reads Pick ● An NPR Best Book of the Year
About the Author
---
Chimamanda Ngozi Adichie grew up in Nigeria. Her work has been translated into thirty languages and has appeared in various publications, including The New Yorker, The New York Times, Granta, The O. Henry Prize Stories, Financial Times, and Zoetrope: All-Story. She is the author of the novels Purple Hibiscus, which won the Commonwealth Writers' Prize and the Hurston/Wright Legacy Award; Half of a Yellow Sun, which was the recipient of the Women's Prize for Fiction "Winner of Winners" award; Americanah, which won the National Book Critics Circle Award; the story collection The Thing Around Your Neck; and the essays We Should All Be Feminists and Dear Ijeawele, or A Feminist Manifesto in Fifteen Suggestions, both national bestsellers. A recipient of a MacArthur Fellowship, she divides her time between the United States and Nigeria.
Praise For…
---
"Dear Ijeawele is a volume as fierce and illuminating as bringing up a confident daughter, both with love at their core." —O, The Oprah Magazine

"I love this book so much, for many reasons. Chimamanda is one of my favorite authors." —Amber Tamblyn, GQ

"Adichie epitomizes and epistolizes our potential in Dear Ijeawele." —Sloane Crosely, Vanity Fair 

"Personal and urgent. . . . Adichie is passionate about equality. Her new book offers 15 ways that we can encourage girls to be strong, to plant seeds of feminism. But more than that, Adichie hopes the book will help 'move us toward a world that is more gender equal.' Doing so means knocking down ingrained assumptions about how men and women think and behave." —The Washington Post

"Adichie's suggestions are logical and stated clearly, full of her dry wit, and range from the obvious ('Do it together') to the bold ('Reject likeability'). . . . As much as this is a book written to mothers of daughters, fathers of daughters would benefit from reading it, too; parents in general would do well to try to raise children who won't have to grow up and read it at all. . . . Powerful and life-affirming, offering wisdom for everyone." —The Village Voice
 
"Adichie has partly written Dear Ijeawele to reclaim the word feminism from its abusers and misusers. Her advice is not only to provide children with alternatives—to empower boys and girls to understand there is no single way to be—but also to understand that the only universal in this world is difference.  Adichie is a brilliant novelist and a serious thinker, and she is also someone who makes no apology for her own trivial interests. Her understanding of feminism is intertwined with her understanding that we all want to be more than one thing." —The Guardian