The Handbook of Doll Repair & Restoration (Paperback)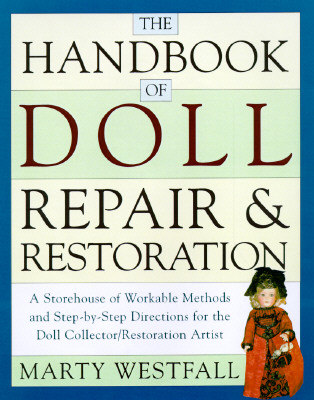 $15.95
Email staff@bookmarksnc.org for price & availability
Description
---
The Handbook of Doll Repair and Restoration was a first when it was published in 1979. It is still a first--in its completeness and detail. This is a responsible book, subscribing to the view of true doll collectors: Do nothing to an antique doll that will compromise the authenticity and reduce its value. Whether a doll is a museum rarity, one of many common antique dolls, or a collectible, Marty Westfall's book will lead you through procedures to restore it. The exquisitely detailed step-by-step directions make it possible for collectors, dealers, even those who own just one or two treasured dolls, to make necessary repairs without reducing value.

The techniques that author Marty Westfall used from 1973 to 1979 and set down in this book are just as practical today. Her aim was to help the beginning restoration artist, and the information is just as valuable to even the most sophisticated collector. In easy-to-follow directions The Handbook describes how to set stationary and sleep eyes, restring compo bodies, refurbish old wigs and make new ones, repair ball-jointed bodies, clean and repair kid bodies, make cloth bodies, mend chips and cracks, replace missing fingers and toes, and cope with other damages. The Handbook encourages those who wish to learn the art by taking them by the hand and showing them how to get started. At the back of the book is an updated list of suppliers for those who lack ready access to sources of repair materials. Other helpful information includes a chapter on how to distinguish between a legitimate replica doll and a fake made with the intention to deceive and another on how to determine whether a doll has been mended, even if the repair is so skillfully done that it is not readily apparent.

Thousands who began using this book as a guide have gone on to develop profitable careers in the restoration field. The same procedures to restore dolls work in restoring other porcelain objet d'arts, such as figurines. Many who began as doll makers have combined their creative art with restoring antique dolls. By learning the techniques in The Handbook, they have improved their skills in creating the valuable antique dolls of tomorrow.