The Lost Book of the Grail: A Novel (Paperback)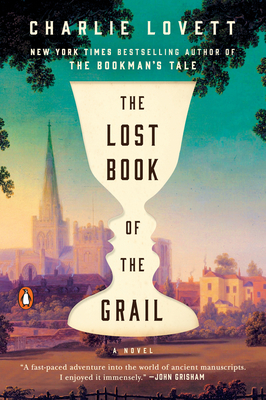 Staff Reviews
---
"When your name is Arthur and you live in a university town in England, it's no surprise you grow up steeped in Grail lore. ('It could be right here!') His story and his work on a cathedral tourbook is intercut with a tale spanning centuries of monks who guarded a secret about the Grail."
— Lisa
Charming from the first page! I enjoyed learning the history of the cathedral and following the quest to uncover its secrets. The struggle to find balance between preserving history and how to best share it with the modern world resonated deeply with me in an age where technology changes so quickly. I felt immediately transported to Oxford, which was an added bonus for me - I loved this setting!
--Beth
Description
---
From the New York Times bestselling author of The Bookman's Tale comes a new novel about an obsessive bibliophile's quest through time to discover a missing manuscript, the unknown history of an English Cathedral, and the secret of the Holy Grail

Arthur Prescott is happiest when surrounded by the ancient books and manuscripts of the Barchester Cathedral library. Increasingly, he feels like a fish out of water among the concrete buildings of the University of Barchester, where he works as an English professor. His one respite is his time spent nestled in the library, nurturing his secret obsession with the Holy Grail and researching his perennially unfinished guidebook to the medieval cathedral.

But when a beautiful young American named Bethany Davis arrives in Barchester charged with the task of digitizing the library's manuscripts, Arthur's tranquility is broken. Appalled by the threat modern technology poses to the library he loves, he sets out to thwart Bethany, only to find in her a kindred spirit with a similar love for knowledge and books—and a fellow Grail fanatic.
 
Bethany soon joins Arthur in a quest to find the lost Book of Ewolda, the ancient manuscript telling the story of the cathedral's founder. And when the future of the cathedral itself is threatened, Arthur and Bethany's search takes on grave importance, leading the pair to discover secrets about the cathedral, about the Grail, and about themselves.

"Lovett's unique work combines literary and historical research with classic elements of cozy mysteries, classic love stories, and exciting adventure tales to create a true genre-blending masterpiece. At once funny, heartwarming, and suspenseful, The Lost Book of the Grail has something for every kind of reader, and every kind of book-lover, alike." —Bustle
About the Author
---
Charlie Lovett is a former antiquarian bookseller, an avid book collector, and a member of The Grolier Club, the oldest and largest club for bibliophiles in North America. He is the author of The Bookman's Tale, First Impressions, and The Further Adventures of Ebenezer Scrooge. In 2015, Lovett curated Alice Live!, a major exhibition of Lewis Carroll and Alice memorabilia at the New York Public Library for Performing Arts at Lincoln Center, as well as wrote a new introduction for Penguin Classics' 150th anniversary edition of Alice's Adventures in Wonderland and Through the Looking-Glass. He and his wife split their time between Winston-Salem, North Carolina, and Kingham, Oxfordshire, in England.
Praise For…
---
"A fast-paced adventure into the world of ancient manuscripts. I enjoyed it immensely."—John Grisham

"The one book every bibliophile needs to read. . . . mysterious, hilarious, and heartwarming . . . A fun, literary adventure in the spirit of Indiana Jones and the Last Crusade or The Da Vinci Code, The Lost Book of the Grail is a wildly entertaining story bibliophiles everywhere will love."—Bustle

"[The Lost Book of the Grail] blends romance, history, booknerdom, and questions about faith and religion into a literary mystery that's not only incredibly fun but super smart. . . . If your idea of a good time is sifting through the shelves of an old library, this book will speak to your heart."—Book Riot's Best Books of 2017

"Book lovers will relish author Lovett's attention to loving detail. . . . The Lost Book of the Grail is . . . ever so readable."—St. Louis Post Dispatch

"Diffident Arthur Prescott [is an] endearing hero. . . . [A] thoroughly enjoyable novel . . . The light tone . . . blends well with the clever academic sleuthing."—Publishers Weekly (starred review)

"A pleasing treasure hunt mixed with [romance] . . . [a] bookish diversion with a distinct Masterpiece Theater flavor."—Kirkus

"Former antiquarian bookseller Lovett here does what he did so well in his debut . . . he uses a contemporary setting to vivify and contextualize ancient writings."—Library Journal

"Diverting . . . a mystery, a history, a pleasure—and a treasure. Find yourself within [these] pages, and you find yourself remembering the virtues of books and book-making."—Gregory Maguire, New York Times bestselling author of Wicked and After Alice

"Charlie Lovett knows his English history and nowhere it is more evident than in his latest charming, compelling novel. A literary mystery with fantastic historical detail and a modern love story—what more can you ask for in one book?"—Melanie Benjamin, New York Times bestselling author of The Swans of Fifth Avenue
 
"The Lost Book of the Grail is for every book addict. Full of suspense, delightful twists and turns, this is a tale about friendship, love, and the purpose of life."—Nina George, New York Times bestselling author of The Little Paris Bookshop

"A vivid, engaging tale that takes the reader along on a delightful search through the ancient libraries of a crumbling cathedral. Settle back and enjoy: this is both a love story and a detective story filled with wonderful historic detail."—Kate Alcott, New York Times bestselling author of The Dressmaker

"The Lost Book of the Grail is a book lover's book. Ambitious in scope, the cheerful bounce of Lovett's prose skillfully guides the reader through history's twists."—Erika Swyler, author of The Book of Speculation