The Hueys: What's the Opposite?: A Hueys Book (Hardcover)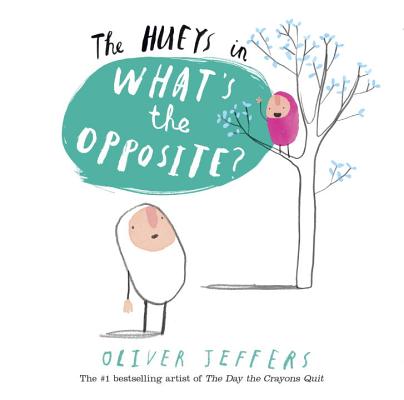 $17.99
Email or call for price.
Other Books in Series
This is book number 4 in the Hueys series.
Description
---
Explore the humorous world of opposites with the #1 bestselling illustrator of The Day the Crayons Quit and his band of Hueys "What's the opposite of the beginning?" A sensible question to ask when opening a book that teaches the reader about opposites. But maybe we should start with something a little easier? For example, it's quite unlucky when a Huey finds himself stranded on a hot, deserted island--but how lucky it is when a fan arrives to provide some cool air Oh, wait . . . nowhere to plug it in? Unlucky, once again. Now for a harder one: What's the difference between half full and half empty? Stumped? Don't worry, that one will make a Huey's head hurt too. In this funny concept book from the illustrator of the #1 New York Times bestselling The Day the Crayons Quit, Oliver Jeffers takes us on a delightful ride through the world of contraries. Praise for The Hueys in What's the Opposite? * "Even readers who know the basics of opposites will get their minds blown here, as a glass is considered half full on one page but also half empty on the next. It's not easy to be so very simple and so very clever, but Jeffers manages in this laugh-aloud offering that will get groups giggling."--Booklist, starred review * "An amusing twist on the traditional concept book by a beloved master of shape and line."--School Library Journal, starred review "A clever concept book from beginning to end."--Kirkus Reviews
About the Author
---
Oliver Jeffers (www.oliverjeffersworld.com) makes art and tells stories. In addition to illustrating the #1 blockbuster The Day the Crayons Quit, his books include How to Catch a Star; Once Upon an Alphabet; Lost and Found, which was the recipient of the prestigious Nestle Children's Book Prize Gold Award in the U.K. and was later adapted into an award-winning animated film; The Way Back Home; The Incredible Book Eating Boy; The Great Paper Caper; The Heart and the Bottle, which was made into a highly acclaimed iPad application narrated by Helena Bonham Carter; Up and Down, the New York Times bestselling Stuck; The Hueys in the New Sweater, a New York Times Best Illustrated Book of the Year; and This Moose Belongs to Me, a New York Times bestseller. Originally from Belfast, Northern Ireland, Oliver now lives and works in Brooklyn, New York.