Flight of the Last Dragon (Hardcover)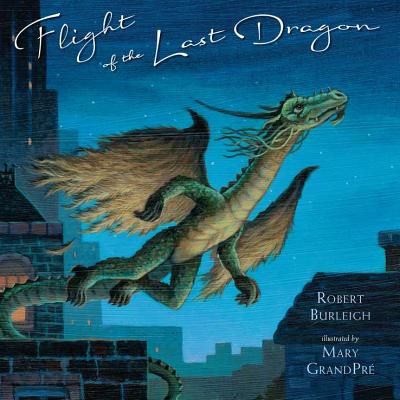 $16.99
Email staff@bookmarksnc.org for price & availability
Fall '12 Kids List
---
"This book flies! With rhyming text and art that almost moves on the page, you feel the joy of flight as a dragon who is the last of his kind soars over the city under the cover of darkness. The story begs to be read again and again, because maybe, just maybe, that flash across the night sky is more than just a falling rock."
— Elizabeth Anker, Alamosa Books, Albuquerque, NM
Description
---
What if there was but one dragon left in the world?
What if dragons were more than just imaginary creatures? What if long ago they soared through our skies? And what if there was only one dragon left? Where might it hide from our machines, from our technology, from us? And where would it go if it spread its wings for one last flight?
"New York Times" bestselling writer Robert Burleigh and Harry Potter artist Mary GrandPre answer these questions by taking us on one last great journey into the starry night. Read this book with a child and wait for the inevitable moment when he looks to the sky . . . and wonders.
About the Author
---
Robert Burleigh lives in Chicago, Illinois, and is the author of many acclaimed picture book biographies of sports stars.

Mary GrandPre lives in Sarasota, Florida, and is best known as the cover illustrator for the mega-hit Harry Potter series.
Praise For…
---
A fanciful poem about the last of the dragons, Ultimon, who becomes the constellation Draco. In a modern-day city, Ultimon lives alone in the sewers, worn and sad, dreaming of his former glory. One night he emerges and begs the universe to take pity on him, and he hears a faint call from the sky. He gathers his strength for one final flight and takes his place among the stars. The story of the last dragon secretly coexisting in the contemporary world is compelling, and GrandPré's illustrations do a lovely job juxtaposing the mythological and metropolitan elements. Her expressive paintings–full of sad, cool blues, purples, and greens that explode with warmth as Ultimon takes his triumphant place in the sky–draw viewers into the dragon's world. . . . High-fantasy lovers of all ages will enjoy this book.--School Library Journal
-School Library Journal