Dark Tide Rising: A William Monk Novel (Paperback)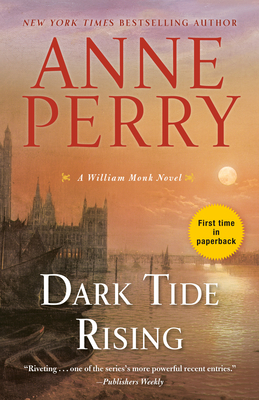 Other Books in Series
This is book number 24 in the William Monk series.
Description
---
When a ransom exchange turns deadly in this thrilling mystery from bestselling author Anne Perry, Commander William Monk faces an unthinkable possibility: betrayal by his own men.
 
NAMED ONE OF THE BEST CRIME NOVELS OF THE YEAR BY THE NEW YORK TIMES BOOK REVIEW • "Riveting . . . one of the series' more powerful recent entries."—Publishers Weekly

When kidnappers choose a broken-down waterside slum as the site of a ransom exchange for the wife of wealthy real estate developer Harry Exeter, the Thames River Police and Commander William Monk shadow Harry to the spot to ensure that no harm comes to him or his captive wife. But on arrival, Monk and five of his best men are attacked from all sides. Certain that one of his colleagues has betrayed him, Monk delves into each of their pasts, one of which hides a dreadful secret. Soon facing a series of deadly obstructions, Monk must choose between his own safety and the chance to solve the mystery—and to figure out where his men's loyalty really lies.

Praise for Dark Tide Rising

"Perry makes cunning work of the plot, which raises issues of trust and loyalty while driving home a grim message about the vulnerability of women who entrust their fortunes to unscrupulous men."—The New York Times Book Review
 
"One of the most successful of prolific Perry's recent Victorian melodramas. The opening chapters are appropriately portentous, the mystification is authentic, and if the final surprise isn't exactly a shock, it's so well-prepared that even readers who don't gasp will nod in satisfaction."—Kirkus Reviews

"Another deftly crafted gem of a suspense thriller by a master of the mystery genre . . .  a 'must read.' "—Midwest Book Review

"Superb . . . [a] brilliant piece of historical fiction . . . No one writes Victorian-era stories quite like Perry."—BookReporter
About the Author
---
Anne Perry is the bestselling author of two acclaimed series set in Victorian England: the William Monk novels, including An Echo of Murder and Revenge in a Cold River, and the Charlotte and Thomas Pitt novels, including Murder on the Serpentine and Treachery at Lancaster Gate. She is also the author of Twenty-one Days, the start of a new series featuring Charlotte and Thomas Pitt's son, Daniel, as well as a series of five World War I novels, sixteen holiday novels (most recently A Christmas Revelation), and a historical novel, The Sheen on the Silk, set in the Ottoman Empire. Anne Perry lives in Los Angeles.
Praise For…
---
"Riveting . . . one of the series' more powerful recent entries."—Publishers Weekly

"Perry makes cunning work of the plot, which raises issues of trust and loyalty while driving home a grim message about the vulnerability of women who entrust their fortunes to unscrupulous men."—The New York Times Book Review
 
"One of the most successful of prolific Perry's recent Victorian melodramas. The opening chapters are appropriately portentous, the mystification is authentic, and if the final surprise isn't exactly a shock, it's so well-prepared that even readers who don't gasp will nod in satisfaction."—Kirkus Reviews

"Another deftly crafted gem of a suspense thriller by a master of the mystery genre . . .  a 'must read.' "—Midwest Book Review

"Superb . . . [a] brilliant piece of historical fiction . . . no one writes Victorian-era stories quite like Perry."—BookReporter
 
PRAISE FOR ANNE PERRY AND HER WILLIAM MONK NOVELS

An Echo of Murder

"Perry smoothly intertwines themes—war's lingering cost, tension around immigration and otherness—that challenge in both her period and our own."—Publishers Weekly

Revenge in a Cold River

"The storytelling is dazzling, as it always is in a Perry novel."—The New York Times Book Review

Corridors of the Night

"[A] suspenseful, twisting narrative."—Historical Novels Review

Blood on the Water

"One of Ms. Perry's most engrossing books [gallops] to a dramatic conclusion."—The Washington Times

Blind Justice

"[Perry's] courtroom scenes have the realism of Scott Turow."—Huntington News