Nervous States: Democracy and the Decline of Reason (Paperback)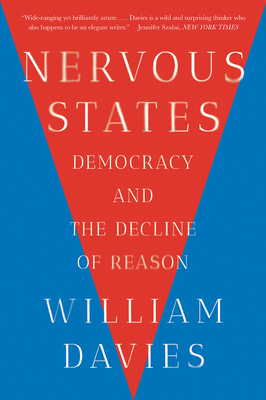 Description
---
"Wide-ranging yet brilliantly astute. . . . Davies is a wild and surprising thinker who also happens to be an elegant writer." — Jennifer Szalai, New York Times
Hailed as a "masterpiece" (Mark Green, New York Times Book Review), Nervous States offers an astute diagnosis for why our politics has become so fractious and warlike. In this bold and far- reaching book, political economist William Davies argues that our increasing reliance on feeling over fact has transformed democracies. The spread of media technology and the intrusion of mass shootings and terrorist attacks into everyday life has reduced a world of logic and fact into one driven by fear and anxiety. As emotions supplant facts in our politics, we lose the basis for consensus among people who otherwise have little in common. Nervous States "sits at the intersection of ongoing debates about post-truth, the assault on reason, the privileging of personal feelings and the rise of populism" (Financial Times) and provides an essential guide to the turbulent times in which we now live.
"An insightful and well- written book that explores the deep roots of the current crisis of expertise." — Yuval Noah Harari, New York Times best-selling author of Sapiens
About the Author
---
William Davies is a political economist at Goldsmiths, University of London, the author of Nervous States and The Happiness Industry, among other books, and a contributor to publications including the Atlantic and the New York Times. He lives in London.