A Trail of Crab Tracks: A Novel (Hardcover)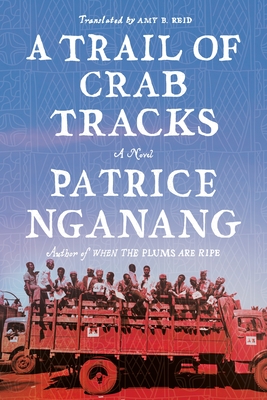 $32.00
Unavailable in store; contact staff@bookmarksnc.org to check price and order availability
Description
---
The award-winning author Patrice Nganang chronicles the fight for Cameroonian independence through the story of a father's love for his family and his land and of the long-silenced secrets of his former life.

For the first time, Nithap flies across the world to visit his son, Tanou, in the United States. After countless staticky phone calls and transatlantic silences, he has agreed to leave Bangwa: the city in western Cameroon where he has always lived, where he became a doctor and, despite himself, a rebel, where he fell in love, and where his children were born. When illness extends his stay, his son finds an opportunity to unravel the history of the mysterious man who raised him, following the trail of crab tracks to discover the truth of his father and his country.

At last, Nithap's throat clears and his voice rises, and he drifts back in time to tell his son the story that is burned into his memory and into the land he left behind. He speaks about the civil war that tore Cameroon apart, about the great men who lived and died, about his soldiers, his martyrs, and his great loves. As the tale unfolds, Tanou listens to his father tell the history of his family and the prayer of the blood-soaked land.

From New Jersey to Bamileke country, voices mingle, the borders of time dissolve, and generations merge. In A Trail of Crab Tracks, the third part of a magisterial trilogy by Patrice Nganang, the award-winning author creates an epic of war, inheritance, and desire, and of the relentless, essential struggle for freedom.
About the Author
---
Patrice Nganang was born in Cameroon and is a novelist, a poet, and an essayist. His novel Dog Days received the Prix Marguerite Yourcenar and the Grand Prix littéraire d'Afrique noire. He is also the author of Mount Pleasant (FSG, 2016) and When the Plums Are Ripe (FSG, 2019). He teaches comparative literature at Stony Brook University.

Amy B. Reid is an award-winning translator who has worked with Patrice Nganang on multiple projects. In addition to A Trail of Crab Tracks, she translated Nganang's novels Dog Days, Mount Pleasant, and When the Plums Are Ripe. Her other translations include Queen Pokou and Far from My Father, both by Véronique Tadjo, and The Blunder by Mutt-Lon. She is a professor of French and Gender Studies at New College of Florida.
Praise For…
---
A New Yorker Best Book of 2022
A Brittle Paper Notable African Book of 2022

"For Patrice Nganang . . . reimagining a nation has required reimagining the novel. Each work in [his] trilogy takes aim at the intricacies of history through an equally intricate narrative approach: the novels range back and forth across time, weaving real-world figures amid fictional characters, and shifting rapidly among different voices, registers, and languages . . . A Trail of Crab Tracks becomes a singularly complex interrogation of the relationship between thought and action, between writing and the world." —Kristen Roupenian, The New Yorker

"The final novel of [Nganang's] monumental trilogy. . . brings the cycle to a dramatic close . . . Dense and immersive, "Crab Tracks" is also playful, irreverent—a novel of pogroms and resettlement camps but also fancy balls and scandalous affairs." —Anderson Tepper, The New York Times

"Family dynamics and the siren song of a war-torn homeland play out in Nganang's elegant, involving [A Trail of Crab Tracks] . . . The story moves fluidly through time and location, providing juicy juxtapositions. Nganang's genius is in his ability to express the personal and the panoramic with equal artistry. Both intimate and sweeping, this epic brings a satisfying and profound closure to historic events." —Publishers Weekly (Starred Review)

"A complex . . . story of war and remembrance . . . An effective continuation of Nganang's project to capture his country's history."
—Kirkus Reviews